David Keyte: Hereford United will not go bust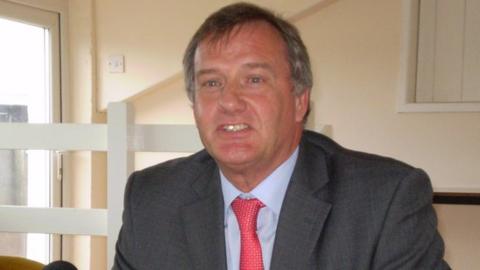 Hereford chairman David Keyte says that the Blue Square Premier club will not go bust, despite their financial woes.
Having been close to administration earlier this season, Keyte claims that the Bulls need £135,000 to meet their short-term financial liabilities - staff wages and their current tax bill.
And, having cut prices, they are pinning hopes on season ticket sales.
"Whilst understanding people's reticence in case it all goes bust, it's not going to go bust," said Keyte.
Meeting the requirements of the latest tax demands of Her Majesty's Revenue and Customs (HMRC) will stave off the latest threat of any imminent winding-up order. But that would still leave the club with outstanding staff wages to settle.
"We're confident we can cover the HMRC bills, which is the PAYE and the VAT," Keyte told BBC Hereford & Worcester.
"We've paid the players that have been offered new contracts. We'll now try and find the rest."
Bulls fans have until the end of May to buy their season tickets at 'early bird' prices - and the club are budgeting to have sold 300 adult season tickets by then.
"We've budgeted by dropping prices to get more coming in," said Keyte.
"We need people to come forward in the same way they did last year."
Having already pumped £600,000 of his own money into the club in three years, Keyte knows there is a chance that he will have to dig even deeper, with no guarantee that he will ever see any return on his investment.
"It would be nice to get to a position where the club can pay," he admitted. "But you don't come into it thinking you're going make money.
"That's been the case throughout my three years. It does seem to rest on the directors' shoulders.
"I thought when I took over that, if it costs me £300,000 to enjoy the role for 10 years, I can live with that, but twice as much as that in three years is a bit steep."
Meanwhile, midfielder Kingsley James, who ended the season on loan at Edgar Street, has been released by Port Vale.
"Kingsley has gone down to Hereford and done very well," said Vale boss Micky Adams.
"Next season he should be holding down a spot in someone's first team in League Two or the Conference."