Goalkeeper Michel Vorm happy to stay at Swansea City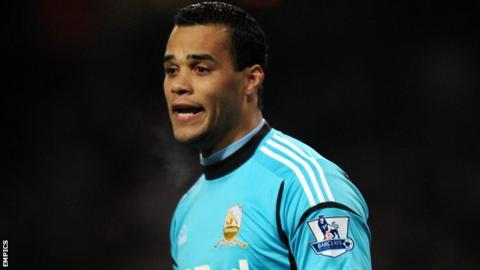 Swansea City goalkeeper Michel Vorm has said he sees himself at the club next season, despite being linked with a number of clubs.
The Dutch international moved to Swansea from Utrecht for £1.5m in August 2011.
Vorm, who signed a new four-year contract in September, has been linked with Barcelona, Arsenal and Liverpool.
"You never know in football, but I see myself playing here next season," Vorm said.
"It's all speculation and I think that's something I'm quite proud of because that's the way people look at you doing well.
"There's no team that came to me, my agent or Swansea saying, 'we are going to buy Michel for next season.'
"I'm so pleased to be here and like it here so much, for me it was so easy to sign a new deal."
The 29-year-old joined Swansea after fellow Dutchman Dorus De Vries left following the Welsh club's promotion to the Premier League.
De Vries left on a free transfer to join Wolverhampton, who at the time were a Premier League club.
But De Vries has started only 11 league games in two seasons for the Molineux club, who were relegated from the Premier League at the end of last season
And with Wolves on the verge of relegation from the Championship, Vorm says De Vries' exit from Swansea is a reminder how quickly football fortunes can change.
"The other day I was thinking about Dorus De Vries. He left the club [but] didn't really have to leave," Vorm added.
"I came from Utrecht because he left and he's struggling maybe now [he's] going down to League One.
"He made a decision and now he's there and they [Swansea] signed me here and now I'm known throughout the UK and Europe.
"It's crazy how fast things go and that's something I really owe the club.
"Swansea gave me the opportunity to shine in the league."
Vorm made his Premier League debut in August 2011 against Manchester City, their opponents at the Liberty Stadium on Saturday.
Against last season's champions, Michael Laudrup's side will be aiming to end a run of six matches without a win, having beaten Roberto Mancini's side 1-0 in the corresponding fixture last season.