Paolo Di Canio 'guarantees' Sunderland recovery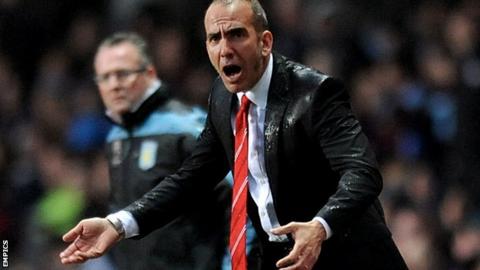 Sunderland boss Paolo Di Canio has promised no repeat performance of their 6-1 hammering at Aston Villa when they host Stoke on Monday.
After two wins from Di Canio's first three games, the Villa Park thrashing left them five points above the bottom three having played a game more.
"I am sure that we can lose, we can draw, we can win, but on Monday night, we are going to perform in a proper way," the Italian said.
"I can guarantee this."
The former Swindon manager's second game in charge was a 3-0 win at rivals Newcastle, followed by a 1-0 win at Europe-chasing Everton, and Di Canio says his side "felt safe" before their defeat by relegation rivals Villa.
"After Newcastle, it was a three-day party for the fans, the players became heroes," the Italian said.
"I couldn't go 400 yards for a haircut. In Sunderland, there is a passion like Naples. You can't go out because a butcher comes out with meat saying, 'It's for you, for your family'.
"Many girls came and hugged me and I was wondering what was going on. I couldn't imagine this passion. I can imagine the players around the town.
"But we have to make sure for the future that there can't be too much positive poison because otherwise we are going to lose because we are worried, or because we have too much confidence.
"We felt safe. After Everton, we relaxed and at the weekend, the Wigan and Newcastle results gave us some poison because we went there and needed only three points.
"But we had to get the three points. As I said before, it has happened to me, I can understand it, but it's not acceptable.
"The positive thing is it happened to a group of genuine players. They didn't do this because they wanted to lose 6-1 or because they are bad professionals."