Dundee Utd's Johnny Russell sets sights on move abroad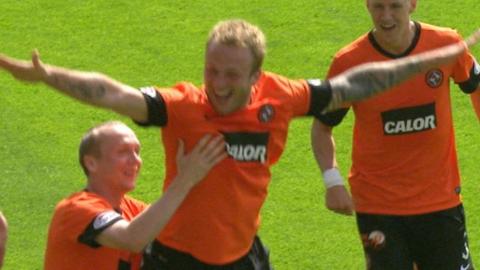 Johnny Russell wants to play overseas if Dundee United decide to sell the forward in the summer.
The 23-year-old has a year of his Tannadice contract to run and Italian club Catania have had three approaches for his services rejected.
"I think if anything I'd prefer to go abroad," he said. "When do you ever see a Scottish player going abroad?
"I'd like to maybe go and show that the view they've got on Scottish football is inaccurate."
Russell is United's leading scorer for the season with 20 goals but has been sidelined since early March with a broken leg.
In recent times, David Goodwillie and Scott Allan were lured away from Tannadice by Blackburn and West Brom, respectively.
But Russell is eyeing a potential move further afield, hoping to follow in the footsteps of Scots like Graeme Souness, Steve Archibald, Murdo MacLeod, John Collins and Paul Lambert, who enjoyed success on the continent.
"Technically, I think it would improve me as a player," he explained.
"For me, it's not about money.
"You could be getting all the money in the world, but if I'm not playing then I'm not going to be happy, so I won't ever make a decision in my career based on money, because you've seen it happen, you don't want to go somewhere and your career to stall, or one bad move and your career is over.
"So, I think if I felt it was right for me then that would be it."
However, Russell is taking nothing for granted as he seeks a return to action.
"The current situation is I'm still a Dundee United player and I'm happy at that," he added.
"It's always nice to hear nice things about you, that other teams are interested, because it shows you're doing well and it gives me a wee bit of a boost because obviously I was out with my fractured leg.
"But until Dundee United choose to accept a bid I'm a Dundee United player and I'm happy at that."