Steve Fletcher: AFC Bournemouth legend announces retirement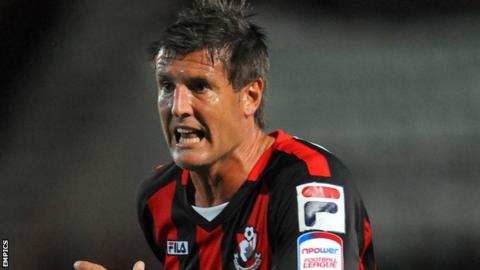 Bournemouth record league appearance holder Steve Fletcher has called time on his 24-year playing career.
The 40-year-old striker has scored 121 goals in 728 appearances in a Cherries career spanning 18 seasons.
But, after achieving his third promotion with Bournemouth, Fletcher feels that he will be surplus to first-team requirements in the Championship.
"I saw Eddie Howe on Tuesday - we feel it will be difficult for me to be part of the squad next season," he said.
"Probably getting into the Championship has backfired in respect to me being able to be around the team," he told to BBC Radio Solent.
"He (Howe) wasn't telling me to retire, he said he respects me too much for that, but that it would be difficult to offer you a playing contract under the circumstances."
Fletcher, who previously stated his intent to retire at the end of this season, is currently in talks to stay at the Goldsands Stadium in another capacity.
His decision brings to an end a Cherries career which first began in 1992 when he joined the Dorset club from Hartlepool and included a Division Three play-off final goal against Lincoln in 2003.
Following spells at Chesterfield and Crawley after being released by then-Bournemouth manager Kevin Bond in 2006, Fletcher rejoined Bournemouth in 2009, even having a spell as assistant manager to Lee Bradbury.
However, this season he made 12 goalless appearances for the Cherries, and feels the time is right to hang up his boots.
"I don't want to go anywhere else," he said. "I'm 40 years of age, I've got to be sensible and realistic. I would love to have played in the Championship.
"But when you weigh things up, it's probably better that I have a look at something to do in and around the first team.
"The manager even said to me he could call me halfway through the season and I might get my cameo role in the Championship, the one thing that's eluded me throughout my career.
"It's been the hardest decision of my life - I still think I could play a bit, but it comes down to how much do I just want to be a figure on the training pitch and not in the first team."