Coleraine boss Kearney issues warning to Linfield over duo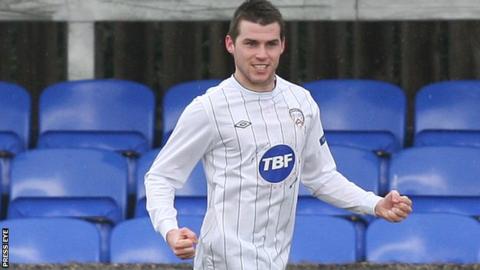 Coleraine boss Oran Kearney has told Linfield to "put up or shut up" over their pursuit of midfielder Stephen Lowry and defender Howard Beverland.
The Blues have registered their interest in the pair but have not made a formal offer to Coleraine.
"Until Linfield come forward with a fee there will be no discussion," Kearney told the Coleraine Chronicle.
"We don't want to sell the players but at the end of the day it will come down to them."
Linfield, who are rebuilding after a disappointing season, have put three players on the transfer list with another three released by the club.
Kearney added: "The players are of great value to us and it will be very interesting to see what Linfield are proposing.
"If Linfield come up with an offer which is deemed acceptable by the club and the players make motions that they want to speak to them then we can't stand in their way.
"It may be that they decide it's not for them at this stage in their careers but as a club we have to allow them to speak with Linfield.
"Both signed three-year contracts last year so it'll have to be quite an offer from Linfield for Coleraine to even consider selling."
Kearney also revealed that striker Curtis Allen is seeking a return to the professional game.
He said: "Curtis is adamant about going back to the mainland and I think he may have a couple of trials lined up - we'll see where that takes him."
Meanwhile, Coleraine have signed former Crusaders and Ballymena United goalkeeper Wayne Drummond.