Spanish game investigated over possible match-fixing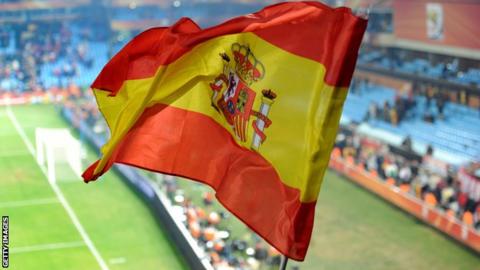 The Spanish football league is investigating Deportivo La Coruna's 4-0 win over Levante on 13 April over a possible case of match-fixing.
Deportivo, who are fighting relegation from La Liga, scored three times in 16 first-half minutes at Levante.
Midfielder Javier Barkero was reported by local media to have accused some of his Levante team-mates of not trying.
"Any game where there's suspicion will be investigated," a Spanish football league spokesman said.
The match under investigation saw Juan Carlos Valeron opened the scoring for Deportivo La Coruna in the 11th minute.
Pizzi doubled the lead after 19 minutes, before Nelson Oliveira made it 3-0 eight minutes later.
Bruno Gama completed the scoring in the 91st minute.
Levante, who are 12th in La Liga, issued a statement on its website saying it will "help and collaborate with any investigation".
"Levante is an institution that ensures fair play and fighting for full transparency in the competition," the statement added.
"The board believes in the professionalism and integrity of all the players of the first team, who have been involved in major sporting achievements of our history."