Harry Redknapp warns QPR could follow Wolves' slide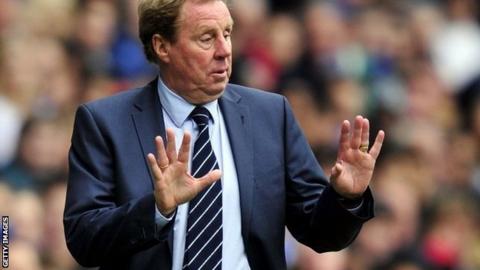 QPR boss Harry Redknapp has warned Rangers could follow Wolves' slide down the Championship next season.
Barring an improbable last-day escape, Wolves will drop into League One just a season after their relegation from the Premier League.
"There is more chance of this squad doing a Wolves than there is of winning the league next season," said Redknapp.
"We need to change things round, shift some out - we need to get a few brighter, better players in."
QPR's hopes of Premier League survival disappeared with a goalless draw away to Reading on Sunday, two seasons after the west London side were promoted as Championship winners.
"The squad here now wouldn't get you out of the Championship next season," former West Ham, Southampton, Portsmouth and Tottenham manager Redknapp added.
"Chairman Tony Fernandes knows that. The whole thing needs changing but it isn't going to be easy."
Fernandes has also warned that his side will need to consolidate in the second tier before they can challenge for promotion to the Premier League,
The Malaysian entrepreneur has criticised the attitude of some of his players, saying that he was "hurt when I saw some of the players who didn't feel the way I felt".
But Redknapp believes his squad's relegation is a consequence of a lack of talent rather than a lack of commitment.
"It's not been a case of a lack of desire in my opinion, what we have lacked is ability," Redknapp added.
"People keep on about what a good squad. That is absolute rubbish: we are where we are because that is how good we are."
Redknapp highlighted the fact that the club's leading goalscorers - January signing Loic Remy, playmaker Adel Taarabt and Bobby Zamora - had only managed five goals each this season.