Chelsea: Jose Mourinho 'has not decided to leave Real Madrid'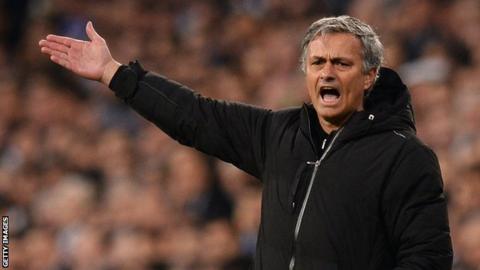 Jose Mourinho insists he has not decided to leave Real Madrid at the end of the season, despite
The Blues have refused to comment on reports the Portuguese boss will confirm his return on 1 July.
"When I decide on my future, my wife and kids will be the first to know, then the president and general director," said the 50-year-old.
"I haven't decided to leave. If I go, I will not give explanations."
Mourinho, who has previously spoken of his desire to return to the Premier League, added: "I'm working with total professionalism and I still have the same honour and pleasure to work for this club as I did a month or two ago.
"We will speak about the future after the end of the season."
Earlier this week Mourinho, who is contracted until 2016 at the Bernabeu, said he may not remain as Real coach next season and added he wanted to go "where people love me".
Mourinho left Chelsea in acrimonious circumstances in September 2007, after a falling-out with owner Roman Abramovich.
But he remains the Blues' most successful manager with two Premier League titles and three domestic cup wins during his three-season spell.
Manchester United manager Sir Alex Ferguson said he could see Mourinho returning to Stamford Bridge, but added he had no knowledge about the Portuguese's future.
"I don't know if that is happening," said the Scot. "I have no idea what Jose is doing.
"He said he is loved by one English team and going back is a big attraction for him, if his time at Madrid is finished of course. But I have no knowledge of that."
QPR manager Harry Redknapp said Mourinho's return would "brighten up" the Premier League.
"Rafa Benitez has done an excellent job, but I think it's common knowledge that the fans and probably the players would love to see Jose back. He's a character.''
Real were eliminated from the Champions League on Tuesday after a 4-3 aggregate defeat by Borussia Dortmund.
Mourinho's team are 11 points behind La Liga leaders Barcelona, who could clinch the Spanish title on Sunday if Real fail to beat Real Valladolid on Saturday.