Peterborough United: Darren Ferguson urges team to focus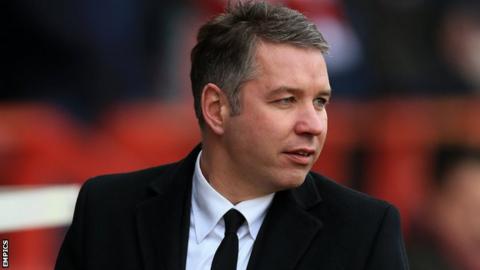 Peterborough boss Darren Ferguson has urged his team not to allow games involving other relegation-threatened sides to distract them on Saturday.
Victory over Crystal Palace will secure another season in the Championship.
Ferguson told BBC Radio Cambridgeshire that despite the need to be "aware" of other results, their focus should be on their game at Selhurst Park.
"The position we are is one I wanted to be in," he said. "If we win, we're okay and that's all we've got to focus on."
Peterborough's chances of avoiding relegation to League One looked bleak at the beginning of the season when they were beaten in their first seven games and they were still bottom of the table as recently as late February.
Ferguson, who is in his second spell in charge, repeated his thanks to Posh chairman Darragh MacAnthony for sticking by him during the early part of the campaign.
"I think the chairman's got to take credit for sticking with it," he said.
"The easiest thing to do would have been to move me on and bring someone else in, but he stuck with me, the fans didn't really turn, so I think we have to take credit collectively. We've united together and want to prove everyone wrong."
While recognising the sterling effort of his side to get within reach of safety, Ferguson added that it will all count for nothing if they end up being relegated after all.
"It means nothing if we don't succeed on Saturday and that's the message I need to get across to my players," Ferguson added.
"Some people might think we would be unlucky, but it doesn't make any difference to me, you're relegated on you're not.
"You're in the worst three teams in the league over 46 games and I don't want to be one of them."