Rangers blueprint critical of Ibrox coaching regime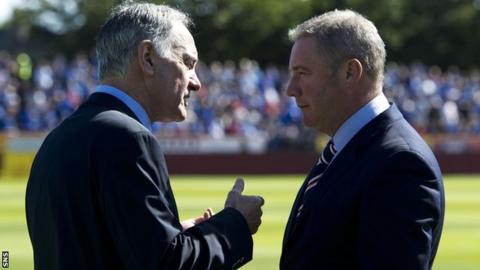 Former Rangers chief executive Charles Green was aiming to win a European trophy by 2020 with the help of a new director of football.
The plans were in a Football Philosophy document obtained by BBC Scotland and included a major overhaul of the club's coaching system.
"There is a big risk that if the current coaching regime remains, then fans will stop coming," it reads.
However, the proposals have been shelved following Green's departure.
The document, drawn up by a major investor in the Ibrox club, is sub-headed The Way Forward and is dated 14 March.
It suggested that the Ibrox club seek "top European ex-player with great pedigree and reputation" for the director of football role and that he "would have the final decision on which players we sign".
Dutch legends Frank de Boer, Johan Cruyff and Frank Rijkaard are listed as potential targets, although it was conceded that these men would be unlikely to come to Glasgow.
The plans called for a "strict wage structure with a basic salary and attractive bonuses", with a "total football philosophy" across every team, from youth level up to the first team, citing Ajax, Porto and Swansea as examples to follow.
Read Football Philosophy - The Way Forward in full.
As well as setting an ambitious goal to win a major European cup by 2020, the document outlined a financial model whereby "coaches would be rewarded by winning trophies, but the largest reward would come in the form of a percentage of the profit made by selling star players".
The blueprint for the club's future also touched on the possibility of Rangers joining England's top flight.
A section reads: "If we played in the English Premiership and earned large payouts then our policy could change regarding selling on players, however, we would always stick to budgets and not overspend."
Manager Ally McCoist steered Rangers to the Third Division title with ease but there were cup exits to Scottish Premier League pair Inverness CT and Dundee United and Second Division Queen of the South, while league form against part-time opponents has been erratic.
The document ends with: "The Rangers fans will stick by the club and support us in their thousands, but only if they can see that there is progression.
"Right now, many questions are being asked about what is really happening at the club, and the biggest concern seems to be the style of football and coaching theory.
"With the fans on board, and a transparent policy of how their cash is being reinvested into player development, they will continue to pay. Rangers have an amazing opportunity to use the huge fan base and ask them to spend on products and services that will ultimately benefit Rangers.
"However, fans will only pay if they are happy with the on-field activities, and right now the majority of fans are not happy. There is a big risk that if the current coaching regime remains, then fans will stop coming and we will see half of the season ticket sales we had this season.
"Change is required... and this starts with a big decision."