John Sheridan signs three-year deal as Plymouth Argyle boss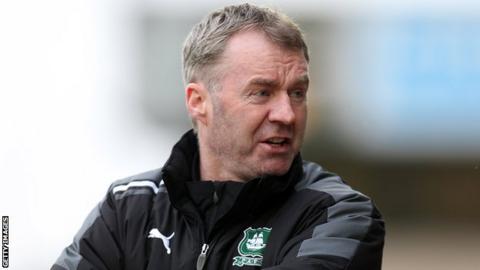 John Sheridan has signed a three-year contract as Plymouth Argyle manager.
The club had after helping the club avoid relegation from League Two.
Sheridan after with the club in the relegation zone.
"With three years I can settle and everyone will get used to how I'm working," the 48-year-old told the club's official website.
"I am positive I will get them to where we want to go. I am very, very pleased and very happy to get it all sorted out.
"Obviously, now the hard work starts. I keep saying it - I'm ready to get this club pushed up the league and that's what I am going to try to do.
"It's not going to happen overnight. The club, for the last two, three, four years, have been struggling at the wrong end of the table and it's important that I try to get the club back to where it was only four or five years ago."
Argyle owner and chairman James Brent said he was happy that Sheridan was the right man to turn the club around on the field after two successive relegations and two years at the bottom end of League Two.
"We're very confident that John has got a lot to add to the club and that he can take us up League Two and into higher leagues," he told BBC South West Sport.
"We wanted to give him a period over which he could achieve that."
Brent also says he has discussed how much Sheridan will have to spend on players, but insists the former Chesterfield boss has not been told that he must get the club promoted next season.
"I've talked to him about how much he's got," he continued. "He has been talking to large number of potential players but he's not come to me with any specific names.
"We haven't set targets that, for example, he must get promoted next season or anything like that.
"John fully understands the ambition of the club and he shows that ambition, and he knows where we want to get to and he'll strive to get us there."