Michel Platini: Uefa chief wants talks between officials recorded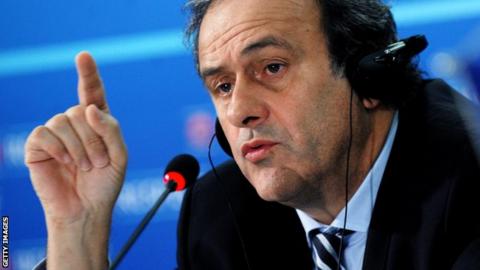 Uefa president Michel Platini wants officials' conversations in European matches recorded after a controversial goal in the Champions League semi-final between Bayern Munich and Barcelona.
Thomas Mueller appeared to foul Jordi Alba before the German side's third goal in their 4-0 first-leg win.
"I don't believe nobody saw the foul. Why was nothing said?" Platini asked.
"I have asked the general secretary to record conversations between officials in matches involving five officials."
The Europa League was the testing ground for games using five officials, which saw two extra assistant referees standing behind the goals and communicating by headset.
It has since been extended to Champions League matches, and Platini says he wants to know why fouls were still being missed.
The 57-year-old Frenchman said: "I understand the error of the referee who didn't see the foul by Mueller.
"But there were three international standard referees involved and none of them saw it. Something is not right.
"If the referee were on his own, he wouldn't have seen it, and two might not have seen it either but, between three, they have to see it."