Man Utd boss Sir Alex Ferguson hails Rio Ferdinand's 'best' year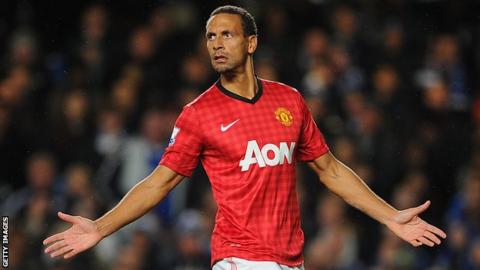 Manchester United manager Sir Alex Ferguson says Rio Ferdinand has had his best season for the club and will sign a new deal at Old Trafford.
Ferdinand was signed from Leeds in 2002 and has overcome long-standing injury problems to start more games than any other United centre-back this term.
The 34-year-old was also named in the Professional Footballers' Association Premier League team of the year.
"Rio Ferdinand has had his best season at the club," Ferguson said.
"We have had continual problems with the centre-backs being fit. Nemanja Vidic has missed half a season, Chris Smalling has missed most of the season, Phil Jones missed a good bit and Jonny Evans missed parts but Rio has managed his situation very well.
"Although we have left him out of certain games because we have managed him the right way, at the most important times he has been there."
Ferdinand's current deal expires in the summer but Ferguson is sure the veteran defender, who cited his training schedule when he pulled out of England duty in March, will stay on for a 12th season at Old Trafford.
The United manager told MUTV: "I don't think there is any reason to think differently. I hope he will stay and I think he will too."