Andre Villas-Boas: Tottenham boss praises Southampton's academy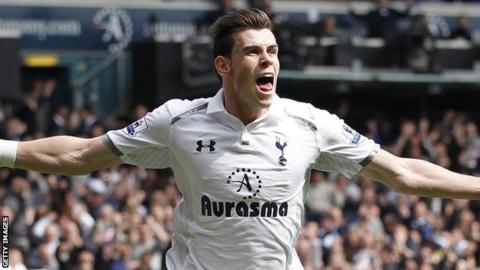 Tottenham boss Andre Villas-Boas has praised Southampton's academy for nurturing stars of the future.
Spurs' Gareth Bale, winner of both player of the season awards, joins Arsenal's Theo Walcott and Alex Oxlade-Chamberlain as Saints youth products.
"It is a great school of development," he said ahead of the south coast side's White Hart Lane visit on Saturday.
"Southampton falls into the same category as Sporting Lisbon, like Barcelona, which is to nurture."
He added: "Sometimes there are clubs that keep developing and nurturing players, then there are clubs that go for scouting.
"In Portugal, Sporting Lisbon is the development club and great players have come out of that school.
"They haven't produced the results in the first team as they wanted in the modern era. Porto invest in a later stage and don't develop the player."
Welshman Bale, 23, added the Football Writers' Association Player of the Year accolade to the Professional Footballers' Association Player of the Year and Young Player of the Year wards he won last week.
He has scored 19 goals in 29 Premier League appearances this season and will be key to Spurs' hunt for Champions League qualification, with them currently two points adrift of the top four.
The Londoners are hopeful their own former youth team players, Steven Caulker, 21, Andros Townsend, 21, and Tom Carroll, 20, have bright futures, with Villas-Boas confident there are more to follow.
"Tottenham has a great school with great young players," Villas-Boas said.
"The biggest jump for a young player is from the development team into the first team. They can try to bridge that gap with the Under-21 league.
"But it's the first year and it needs time to get established. In the end I think it will allow players to get into the first team a little more often."