Hearts report losses in accounts for period to June 2012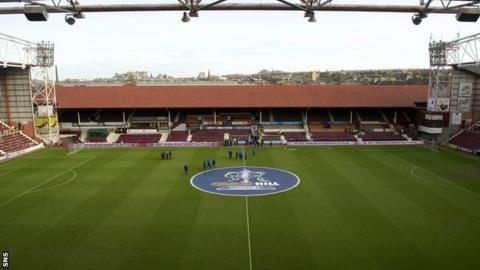 Hearts made a loss last year of £1.65m, in a season in which they played in Europe and won the Scottish Cup.
Their accounts for the period ending June 2012 show an increase in turnover from £6.92m to £8.68m.
And the Tynecastle club made a net gain of £1.96m on the sale of Lee Wallace to Rangers and Eggert Jonnson to Wolves.
But their debt last summer stood at £24.7m and £15m of that is owed to
In December, Hearts reached an agreement to pay Her Majesty's Revenue and Customs £1.58m over three years in backdated tax and National Insurance contributions. The club has opted to show the full amount in its most recent set of accounts.
The debt to Ukio Bankas is secured by Tynecastle Stadium, which is now controlled by the bank's administrators.
And just under £10m is owed to the bank's parent company, UBIG, the investment company controlled by Hearts owner Vladimir Romanov.
In late February, UBIG's entire board resigned.
A concern for Hearts, who will hold their AGM on Thursday 23 May, is just how the Ukio Bankas's administrator will seek to recoup its debts. An immediate demand for its money could force the Scottish Premier League club into administration.
In the 11-month accounting period to June 2012, Hearts played Europa League qualifiers against Paks from Hungary and Spurs.
And they beat Edinburgh rivals Hibernian 5-1 to win the Scottish Cup last May.
In a statement released on their official website, Hearts discuss Romanov's possible sale of the club.
It says: "During the period there has been mention of Heart of Midlothian being for sale.
"The board can assure supporters that the club will only be sold on the basis of a constructive and realistic offer for the company and secondly, and as importantly, can prove that they have the resource, determination, and business acumen to allow Heart of Midlothian to prosper in future years."