Hibernian: Leigh Griffiths out to repay manager Pat Fenlon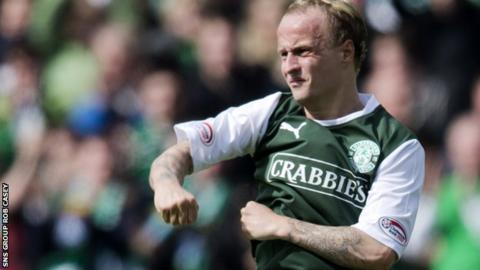 Leigh Griffiths says he owes a great debt to Pat Fenlon and has set his sights on repaying the Hibs manager with a Scottish Cup win.
The striker, on loan from Wolves, has hit the net 27 times this season.
"The gaffer has been like a father figure to me, especially this season, and we have seen the rewards he has got for his faith in me," said Griffiths.
"I've got the chance to be the man to fire Hibs to Scottish Cup glory and to make the manager a legend here."
Hibs will meet Celtic at Hampden on 26 May, hoping to banish memories of last season's final mauling from Edinburgh rivals Hearts and end an 111-year wait for the trophy.
And Griffiths will be key to the Easter Road side's chances of springing an upset.
No Hibs player has scored 30 goals since Alan Gordon and Jimmy O'Rourke both did so in season 1972-73 but Griffiths is now just three away from that target with four games to play.
The PFA Scotland Player and Young Player of the Year nominee is expected to return to Molineux in the summer after two seasons on loan in Leith, with Wolves having a one-year option to trigger on his contract.
"I've scored 27 goals this season and hopefully I can get a few more," he added.
"If I'm not going to be here next year, then what a way to bow out by winning the Scottish Cup. I meet fans when I'm out and they keep reminding me how long it's been since we won it.
"As a Hibs fans, I know more than anyone how happy we could make them if we were to do it.
"It's been the best year of my career so far. My target was 20 goals because the most I'd ever scored was 21 with Dundee in the First Division.
"So to score 27 in the SPL, which is a lot tougher league, is great. But I'm not done yet and I want to reach that 30-goal tally. If I do it, the manager will have played a huge part in that.
"The manager has really helped me this season. We've had talks in training, wee meetings here and there, just to find out what's been going on.
"If I'm being down or not really talkative in training, he will try and find out why. I just go into training, keep my head down and then go away and spend as much time as I can with my kids."
Hibs were briefly top of the Scottish Premier League in November but have managed just one league victory since the turn of the year to leave them outside of the top six in ninth place.
"Teams go through bad spells," said Griffiths. "Thankfully I went through my bad spell when the team was doing well and Eoin Doyle was scoring a few goals.
"People who say Hibs are a one-man team are getting a wee bit carried away. Yeah I've scored a few goals this season but the team at the start of the season was doing really well.
"We haven't done so great in the last few games but hopefully we can pick that up with four games to go."