SFL's David Longmuir acknowledges 'rebel 10' frustration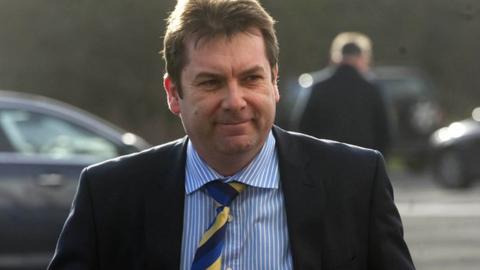 David Longmuir disagrees with the 10 clubs who have indicated a willingness to quit the Scottish Football League but recognises their frustration.
The SFL chief executive is disappointed that teams have written to the Scottish Premier League asking them to consider forming a new second tier.
"I don't think it's the right route," Longmuir told BBC Radio Scotland.
"It's important to understand the frustrations around and no-one more than me knows the clubs' aspirations."
Plans to restructure Scotland's leagues fell at the first hurdle when the SPL failed to reach the 11-1 majority required to back the idea of two divisions of 12 above an 18-team division, with a system of play-offs and one governing body.
"Proposals for change were undelivered by the SPL because of their voting structure," explained Longmuir.
"So, let's look at what we can deliver for next season, namely play-offs, and do something to strengthen the bond between the SPL and the SFL through progress.
"Let's try and put play-offs in place and discuss a phased delivery of the other options.
"Play-offs at least gets us on the road to change and it's something the fans would embrace."
Hamilton chairman Les Gray said the 10 clubs considering the breakaway were "very disappointed with our [SFL] board" and described their approach to the SPL as "the last chance to do something for next season".
But Longmuir has a duty to all of the clubs across Divisions One, Two and Three.
"Clubs have a right to talk but there could have been a better way of doing it," added the chief executive.
"I try to represent all 30 clubs and take the game forward as best we can for all of those clubs."