Hull City promotion: 'People were hiding in toilets'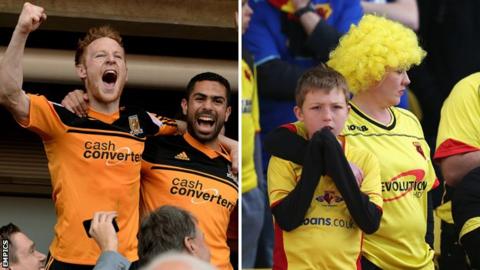 It is not often that a manager describes his side's promotion to the Premier League as "torture".
But that was Hull manager Steve Bruce's honest assessment of a day that put the fans of City and Watford through every emotion known to man.
Ultimately it was the Tigers who gained promotion to the top flight to leave Gianfranco Zola's Hornets facing the prospect of the play-offs but there was so much more to the final day than that - namely three pitch invasions, a 15-minute injury delay that saw a 19-year-old goalkeeper make his professional debut, and two red cards.
"The end was just ridiculous and having to wait. We've seen people in tunnels, people walking in corridors, people hiding in toilets, it was just really incredible," said Bruce.
"I thought I'd seen it all last week after what happened with Brentford and Doncaster but what happened today topped the lot. It was torture."
The situation at the outset was simple enough. Hull needed to match or better the result of Watford to ensure they and not the Vicarage Road side would be celebrating promotion.
The Tigers had already had two chances to put the issue to bed but drew with relegated Bristol City before losing at Barnsley when a win in either game would have seen them promoted.
Before the games had even started the drama had begun. Watford's Spanish goalkeeper Manuel Almunia pulled a hamstring in the warm-up meaning a late call into the starting line-up for Jonathan Bond and a place on the bench for teenager Jack Bonham, 19, who had been expecting to watch the game from the stands.
But within 10 minutes of the 12:45 BST kick-off Bond found himself on the way to hospital after a heavy collision with team-mate Ikechi Anya and the hitherto unknown Bonham was thrown into the deep end.
"First he was in the stands, then he was on the bench, and after 10 minutes he is on the pitch. So it wasn't easy for him," Zola commented.
Bond's injury had wider repercussions - it meant the game at Watford would be finishing around a quarter of an hour after the match at Hull.
The whispers had already begun among the fans. At one point Cardiff supporters started chanting that Watford had taken the lead while a section of Hornets fans had been led to believe that Hull had gone in front. Both were wrong.
And then the news everyone at the KC Stadium had been hoping for and a goal Watford fans had been dreading - Dominic Poleon, on for the concussed Steve Morison, had scored for Leeds after an error by Watford's debutant keeper. That was after 42 minutes.
"In football you make mistakes. These mistakes always make you stronger. The way you react to them is what makes the difference.
"I'm not going to blame him for one second. I'm expecting a good reaction from him. It was tough to come in at that moment," Zola said.
Cue one of the oddest scenes of the season as 21,000 Hull fans rose to their feet to celebrate a goal 200 miles away while their own side were defending a corner.
The first half ended goalless in Hull but by the time the two teams came back onto the pitch Almen Abdi had restored parity at Watford. Nerves, along with nails, were beginning to become more tattered in East Yorkshire and to compound matters, Fraizer Campbell, once of Hull, gave Cardiff the lead within moments of the restart.
The pendulum appeared to have swung in the Hornets direction.
Watford fan Wallace Lane said: "It was crazy. Absolutely crazy situation. One minute you're up, next minute you're down. Then you're up again and down again. It's bonkers."
Two goals in five minutes put Hull in front as first Nick Proschwitz and then Paul McShane hit the back of the Cardiff net while in Watford, Hornets striker Troy Deeney was sent off for a second bookable offence.
"I thought we were the better side. It would have been fitting if we'd won 2-1 or 3-1," Bruce added.
His side were starting to sense victory and were further boosted when Bluebirds full-back Andrew Taylor was given his marching orders for dissent.
Victory and promotion then seemed nailed on when the Tigers were awarded a penalty in injury time, sparking the first pitch invasion of the day as stewards tried desperately to curtail the early celebrations. By the time the supporters were taking their seats again, Proschwitz was seeing his spot-kick saved by keeper David Marshall.
Moments later Cardiff were given a penalty of their own which Nicky Maynard, returning from long-term injury, duly converted.
The final whistle saw a far more subdued pitch invasion as Hull players and fans were left helpless for 16 minutes while Watford searched for the goal to send them to the Premier League.
Hull's players, those who weren't hiding in the toilet, stood in the tunnel to watch the last moments of action at Watford.
"I thought at the end we were going to make it. When there were 10 minutes to go, although we had one player less, I knew we had the quality to create a goal," Zola said.
"I know it was risky because the players were tired and I was taking a big gamble but I had to try.
"Yes - for a moment I thought we would score the goal we needed."
There was to be another goal but unfortunately for Zola it was against, rather than for, his side. Leeds striker Ross McCormack's lob broke Hornets hearts and kicked off the third spillage of Hull fans on to the KC Stadium turf. This time they were not to be moved. Hull were up.
"I don't think I've ever been supporting Leeds but, wow, for Leeds United to do it for me is remarkable," former Manchester United skipper Bruce said.
"This side were 66-1 outsiders at the start of the season. A lot of people asked me what I was doing taking the job.
"I'll have a few beers and I'll enjoy it now. I'll try to relax and put this horrible body on a beach somewhere hot and see how red it goes."
Bruce might be heading off on holiday but Watford will be back in training on Monday.
Leicester City await in the play-offs but Zola reserved a final word for the winners of the day.
"I'm going to give Steve Bruce a call and tell him it's been a very exciting challenge. Hull have played well. Well done to them."