Everton Ladies see off Chelsea in Continental Cup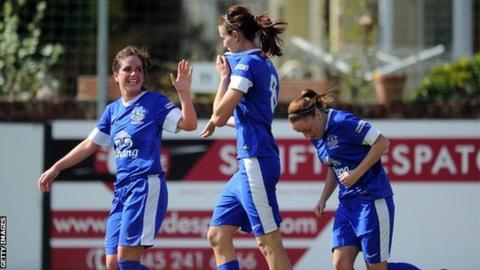 England midfielder Jill Scott's late goal gave Everton a 2-1 win against Chelsea and the joint leadership of their Continental Cup group.
to move three points clear on Saturday, but Everton are now level with them.
Toni Duggan gave them a first-half lead in a hard-fought contest against Chelsea, each side seeking their first Continental Cup win.
The visitors equalised through Sofia Jakobsson, but Scott won it late on.
Everton started and finished the game the stronger team, in-form England winger Duggan heading in her eighth goal of the season from full-back Alex Greenwood's 34th-minute cross.
England striker Eni Aluko crossed for striker Jakobsson to level the scores with a close-range 49th-minute shot - the Swede's fourth goal of the campaign.
The Toffees were soon back on the offensive and Duggan was unlucky when her 58th-minute shot struck the crossbar.
But the home side continued to press at every opportunity and Scott chased a long ball out of defence to drive in the winner.
With only one round of the four-team group's matches remaining, the Merseyside neighbours will be favourites to take the two available semi-final places.
Liverpool and Everton now have four points each, while Chelsea and Doncaster have one point apiece.
The Reds are set for a trip to Chelsea for their final group game, while Everton will be away to Doncaster.