Barcelona: Tito Vilanova to have cancer check-up in New York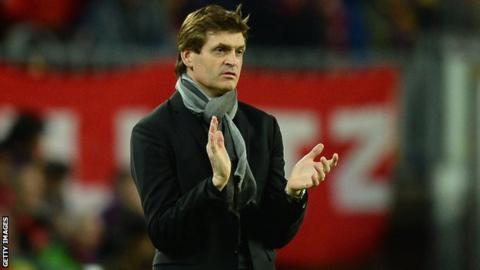 Barcelona head coach Tito Vilanova will travel back to New York this week for a medical check-up after having treatment on a tumour there in December.
Vilanova, 44, was in the dug-out on Sunday as his side moved to the brink of the Spanish title with a 4-2 win against Real Betis at the Nou Camp.
If Real Madrid fail to win on Wednesday Barca will secure the trophy, meaning Vilanova could miss the celebrations.
"I am going for some tests and I will be back on Thursday," he said.
Vilanova - who was promoted from assistant coach last summer when Pep Guardiola ended his four-year long tenure - spent 10 weeks in the US city undergoing radiotherapy and chemotherapy sessions. Following that program, he returned to take charge of the first team in March.
That was the second time he had been diagnosed with a cancerous growth on his saliva gland, after previously having surgery in November 2011.
Following the weekend's Lionel Messi-inspired victory, Barca are 11 points clear of second-placed Real with four games left to play.
If Jose Mourinho's side are unable to claim three points at home to Malaga in mid-week, the Catalans will secure their fourth La Liga triumph in five seasons.
Even if Real emerge victorious, Barca require only two more points to claim the title, with their next opportunity coming on Saturday at third-placed Atletico Madrid.
Vilanova, whose side endured a humiliating 7-0 aggregate Champions League semi-final loss to Bayern Munich, asked to be judged on his achievement's next season because of the disruptions caused by his cancer treatment and injuries to key players such as Messi and captain Carles Puyol this term.
He said: "One must improve and be self-critical. It's been a tough year for injuries.
"The coach has not been around for over two months and it's not been easy."