Guernsey FC: Fourth win in four days earns promotion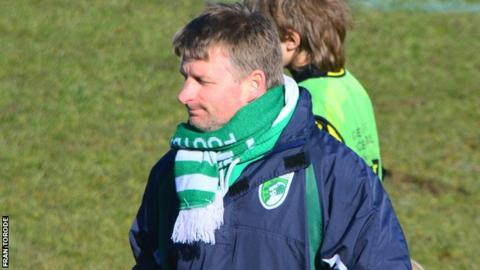 Guernsey FC have won a second successive promotion after winning their last seven matches in 10 days.
Head coach Tony Vance admitted he had taken squad rotation to a new level after his side played their final four matches in as many days at the weekend.
The result which finally earned the Channel Island club promotion to step four of the non-league pyramid was a hard-fought 1-0 win over Farnham Town.
Striker Matt Loaring found the net on 51 minutes after a goalmouth scramble.
It followed a twisting run from the island's star forward Ross Allen and brought relief to the nervous crowd of 1,754 fans at Footes Lane, who knew only a win would guarantee promotion as one of the best-performing runners-up in their region.
Chances followed at both ends before Allen appeared to score a second in the 77th minute.
The island side were convinced the ball had entered the goal before bouncing against a small wheel and coming back out into play.
But the goal was not given and play was subsequently stopped as Guernsey's players angrily remonstrated with referee Isaac Jempeji.
The match became more open in the last few minutes but Guernsey held on.
This completed a run of 20 matches in 36 days, during which Vance used 29 players - none of whom receive payment from the club.
"The boys are just incredible," Vance said. "Words can't describe what an achievement that is."
The challenging fixture schedule had developed because of postponements over the winter caused by snow, fog and a waterlogged pitch and was made worse by a run to the two-legged semi-final in Guernsey's first FA Vase campaign.
No fewer than 16 matches were played in April alone, of which Guernsey won nine, drew three and lost four.
That left the final four matches in four days, which Guernsey had to play without their captain, Sam Cochrane, who picked up a hamstring strain.
"We had to change a few things. It was just one mass rotation policy," Vance said.
The final sequence began with a 1-0 win over bottom club Dorking in the 19:45 BST kick-off on Friday.
The final whistle in that match went at 21:30 and, at 13:00 the following day, the match against third-from-bottom Hartley Wintney began.
Guernsey found their fluidity in that game, winning 8-1 with hat-tricks from Marc McGrath and Nigel Hutton.
Fourth-placed Epsom & Ewell were then beaten 2-0 in the 13:00 kick-off on Sunday before the season climax on bank holiday Monday.
Guernsey were formed in 2011 and first entered the Combined Counties League first division - the same division joined by AFC Wimbledon in their first season.
They will now play in division one south of the Isthmian League, commonly known as the Ryman South.
"It's going to be a different challenge for us next year but it's certainly one that I don't fear," Vance said.