Mohamed Youssef replaces Hossam El Badry at Al Ahly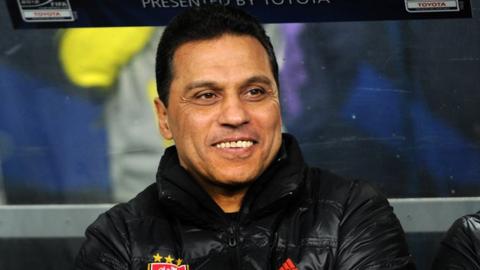 Al Ahly have installed Mohamed Youssef as coach until the end of the season following Hossam El Badry's resignation.
Youssef , 42, was El Badry's assistant and has never taken charge of a senior team.
He said: "Working at a great like Ahly is easy at difficult at the same time. It is easy because you have all the tools for success but the difficulty remains that failure is unacceptable."
El Badry announced on Monday he was leaving the reigning African Champions to take over Libyan side Al Ahly Tripoli.
His decision came hours after he lead the Egyptian side to the group stages of the Champions League with a 2-1 win over Tunisia's CA Bizertin on Sunday.
It brings to an end his second spell in charge of the club that he played for for nine years.
Ahly have been critical of El Badry's exit and published a statement on the club's website, which read: "The committee deeply regrets the irresponsible behaviour of El Badry - it is inappropriate for him to leave before the end of the season."
The Egyptian season ends in June.