South Africa's 2014 qualifier against CAR moved to Cameroon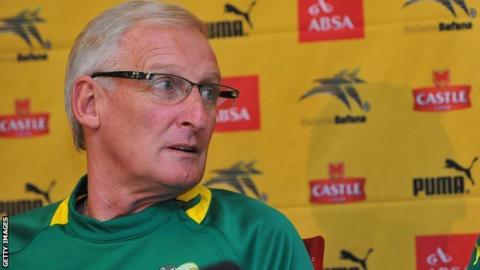 South Africa's 2014 World Cup qualifier against Central African Republic has been moved to a neutral venue in the Cameroonian capital, Yaounde on 9 June.
The South Africa Football Association had asked Fifa and Caf for the move due to the ongoing political unrest in CAR.
Two months ago 14 South African soldiers died after skirmishes with rebels in the country's capital Bangui.
"I am happy that the venue issue has finally been settled," Bafana Bafana coach Gordon Igesund said.
"I must commend Safa, Fifa and Caf for making this happen because we lost our loved ones there not so long ago and the environment is still too tense to have a match in that country.
"It would definitely not have been the right atmosphere to play there.
Despite the match now being played on neutral territory Igesund is taking nothing for granted.
"But it would be silly of me to say that now that we are playing at a neutral venue, it will favour us," he added.
"It will still be a very tough match, but the advantage is, it will be away from the intimidation of the home crowd.
"We played well against them in the home leg but they showed they are a formidable side, so we need to be on guard and not take things lightly. We cannot afford to lose this match."
A week after the CAR clash with the South Africa will face Group A leaders Ethiopia in Addis Ababa.