Dundee's John Brown threatens to quit football if punished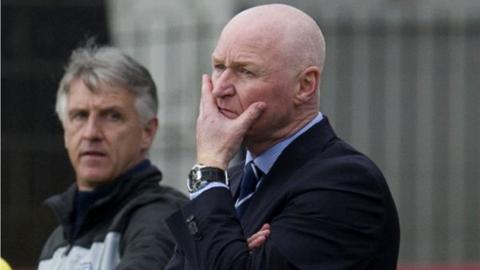 Dundee manager John Brown warned he would walk away from football if he is punished for his criticism of referee Alan Muir after his side's relegation.
Brown
"It was a blatant dive," Brown said of the incident involving Peter Pawlett.
"And if I feel as though the SFA would punish me for any outburst about any referee then I'd walk away from football."
Niall McGinn netted the equaliser from the penalty spot and the draw .
Aberdeen manager Derek McInnes has defended Pawlett against what his opponents thought was a theatrical dive when challenged by Lewis Toshney.
But the 22-year-old winger, who has previously been banned for diving, appears likely to be served with a notice of complaint from Scottish Football Association compliance officer Vincent Lunny.
And Brown claims he would substitute any player who won a penalty in such a way for his own team.
"I'd take him off right away," Brown told BBC Radio Scotland before highlighting the implications of the decision.
"I have never seen such a blatant a dive in a long time. The referee is 20 yards away, the assistant referee is just behind that. Surely he can see that?
"Dundee had an opportunity to take this down to another weekend and it was taken out of our hands by a diabolical decision. I'm still very bitter about it.
"It's our livelihoods. Players are going to lose their jobs, staff around Dens Park are possibly going to lose their jobs."
Brown, who recently signed a two-year contract, is unconcerned whether Pawlett faces retrospective action but thought the SFA had questions to answer.
"He is a young player and he's got previous, but you have officials out there to deal with that," Brown told Sportsound.
"It was a high-profile game, a massive game. Surely they could change the officials and get the top officials?
"It was a blatant dive. He was diving with two feet before he has even come near the player.
"I'm not too concerned about the player, I'm concerned about the officials. The officials are the ones that have cost us the game."
Brown argued that he had a right to be critical of decisions without being disciplined by the SFA.
"Maybe the guy's OK, a decent referee, but he made a massive mistake," he added.
"I've been happy with the referees. We had some dodgy decisions - in the cup game against Dundee United, the ball was out the park and they got a free-kick and got a goal from it.
"I've not complained about too many referees. In general, they have been spot-on.
"I had a gripe about yesterday because it was a major decision."