Ajax legacy is safe in Frank de Boer's hands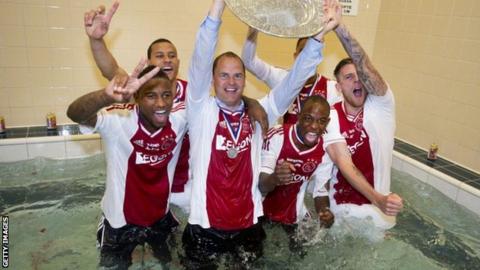 Ajax have released behind-the-scenes footage of their Eredivisie title celebrations, recorded by the club's in-house TV channel.
After clinching the club's 32nd league title on Sunday with a 5-0 thumping of Willem II, the players celebrated in time-honoured fashion, throwing head coach Frank de Boer into the communal bath in his suit.
This was, however, no repeat of Harry Redknapp barely tolerating a soaking from his Tottenham players after Champions League qualification at Manchester City in 2010. De Boer was the life and soul, leading the songs and joyously brandishing the trophy at the centre of the group.
The 42-year-old was not just in his suit, either. Like every one of his players, he had his Ajax shirt with "2012-13" and the number "32" printed on the back, over his tailored shirt.
The message was loud and clear. De Boer is at the very heart of his squad - and he is an Ajax man through and through.
His level of assurance and control is not, however, in question. It completely belies his relative managerial inexperience. It has been some journey in just over two and a half seasons in charge.
From being a bright young coach, De Boer is now a history maker. He is only the third Ajax coach to have won three successive titles. It is an exclusive club, with the other two members being the great Rinus Michels (between 1966 and 1968) and Louis van Gaal (1994, 1995 and 1996).
Maybe it was always destined to be this way. Like Michels and Van Gaal - not to mention his twin brother Ronald - De Boer trod the path from Ajax to Barcelona. Now, he has brought the Barca ways back to where they came from.
Michels - later with the aid of Johan Cruyff - transplanted his Total Football method to Barcelona. This laid the basis for the possession-based, high-pressing 4-3-3 that so famously continues to flourish at the Camp Nou today.
Steeped in Ajax tradition, De Boer was always likely to return the team to the club's roots after a tricky period.
He was seen as a safe pair of hands when he took over in December 2010 - initially on a caretaker basis from the departing Martin Jol.
De Boer quickly stamped his own style on the team and impressed while doing so. His first match in charge was away to Milan in the Champions League - in which he dropped top scorer Mounir El Hamdaoui.
A youth product, Siem de Jong (now club captain), was drafted into a front three with Luis Suarez and Miralem Sulejmani. Ajax won 2-0 at the San Siro that night to qualify for the Europa League.
De Boer's first Eredivisie title later that same season was, remarkably, Ajax's first in seven years. To know precisely what he has achieved, it is necessary to look at the situation that he inherited.
Ajax had been humiliated in the European Cup, a competition that they won three consecutive times between 1971 and 1973. The club was also in institutional crisis, with the entire board having resigned earlier in the year, with in-fighting over the club's direction still raging.
The appointment of De Boer was a long overdue step towards putting Ajax on an even keel, at least on the pitch. His role was, he told me in an interview for the Independent shortly before that 2011 title win, to "protect" the players from the maelstrom upstairs.
De Boer has continued to balance the club's financial needs with getting the best out of his team. While restoring Ajax to the summit of Dutch football, he has been forced to sell Suarez, Jan Vertonghen and Gregory van der Wiel among others.
Within the current economic climate and power balance of European football, De Boer's approach is ideal. His philosophy may not be new, but it is very suited to the demands of today.
On the pitch, he was never going to be seduced by the 4-2-3-1 that Bert van Marwijk used to take the Netherlands to the 2010 World Cup final. De Boer is a passionate believer in pass and move - and always with three up front.
It helps that he is surrounded by fellow keepers of the flame. Marc Overmars is now Ajax's sporting director, and Dennis Bergkamp is one of de Boer's assistants. Former Nottingham Forest and Ajax winger Bryan Roy coaches Jong Ajax, the club's second team.
As with Barcelona in recent seasons, the physical condition of De Boer's Ajax is key. Like Barca, they are primed to peak at the right time. Under their coach's plan, the Amsterdammers have become irresistible in the final third of the season.
In De Boer's first campaign, Ajax won 11 of their final 13 games to leapfrog Twente on the final day. Last season, they finished on a run of 14 consecutive wins to clinch the title, having been as low as sixth in February. This time, they have 12 wins and two draws from their last 14 league games.
Like Pep Guardiola - who he played with for two years at Barca - De Boer is a long-termist. De Boer understands the importance of a collective philosophy throughout the club. It is something he has helped instil himself, having coached various youth age groups at the club since 2007.
Moreover, he is in it for the long haul. In May last year, he rejected the chance to enter talks for the then-vacant managerial position at Liverpool.
"I'm honoured by the request," De Boer said at the time. "But I've only just started with Ajax. Even if Barcelona were to approach me tomorrow, I wouldn't go. I'm not finished here."
So we can expect Ajax to continue grow under De Boer - for now. Still, a return to Barcelona one day would have a wonderful circularity to it.