Scotland's top-flight clubs consider play-offs and SPL2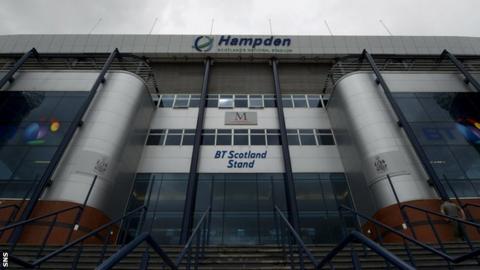 Top-flight clubs will meet at Hampden Park on Tuesday for what is being billed as a final chance to reorganise Scottish football for next season.
And Dundee manager John Brown believes agreement is possible.
The relegated club have joined First Division clubs who want to break away from the Scottish Football League to form a second tier of the top flight.
"I think tomorrow could be the point where we get a decision," Brown told BBC Scotland.
Dundee, who were relegated on Sunday, have a foot in both camps as they will be able to speak for their future second-tier colleagues.
"What I'm hearing, there will be decisions made tomorrow and hopefully it's for the best of Scottish football," said Brown.
"We need to do it soon. We're becoming a mockery here. We need to come up with the answers."
The 12 Scottish Premier League clubs met last week to discuss a number of options for introducing play-offs between the top two divisions.
Since then, 10 clubs have sent a proposal to the SPL asking to join its ranks in a breakaway from the SFL.
It is understood there are three options other than the status quo that will be discussed by the 12 clubs.
One is the introduction of play-offs between the SPL and SFL.
The second is the introduction of play-offs in a new structure with a model that will redistribute finances from the top-flight to SFL clubs.
A third option is the possibility of an SPL2.
St Mirren and Ross County last month vetoed plans for a new merged structure with leagues of 12, 12 and 18.
They had been unconvinced of the merits of the proposed split of the top two divisions into three after 22 games.
Both clubs are understood to be more favourable towards play-offs, but no consensus was reached when the SPL clubs met to consider change last week.
Some clubs fear opening themselves up to a greater chance of relegation without the extra revenue the SPL claimed would be created by a mid-season split into three leagues of eight.
SFL chief executive David Longmuir has expressed his support for the introduction of play-offs for promotion and relegation between the top two tiers.
There are only five weeks left until the fixtures are due out, with the SPL season scheduled to start on 3 August.
However, it is understood that league officials are comfortable that any agreement could be put into action at any stage before the publication.