Manager Andy Morrell wants to keep nucleus of Wrexham squad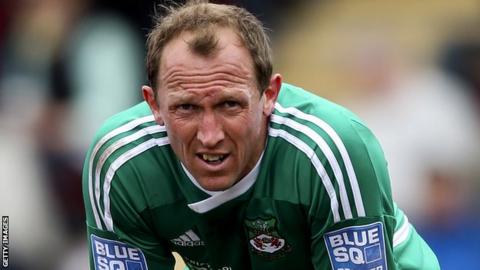 Player-manager Andy Morrell does not expect to make major changes despite Wrexham's failure to gain promotion to the Football League.
Wrexham's hopes were ended for another year after they lost 2-0 to Newport County in the Conference Premier Promotion final at Wembley.
But Morrell has ruled out major changes to his squad ahead of Wrexham's sixth season in the Conference Premier.
"I think the core and nucleus is there, ready to go again," Morrell said.
"It will take another tweak because if you start again from scratch and rip the whole thing up I don't know if you're necessarily getting better than what we've got.
"We'll be telling the players at the end of the week which way we're going to go."
Defeat to Newport County was the third year in a row Wrexham had failed to gain promotion through the end of season play-offs.
Morrell, who succeeded Dean Saunders in September 2011, pledged to carry on in the wake of the Wembley loss.