Arrest does not overshadow award, says Motherwell's Michael Higdon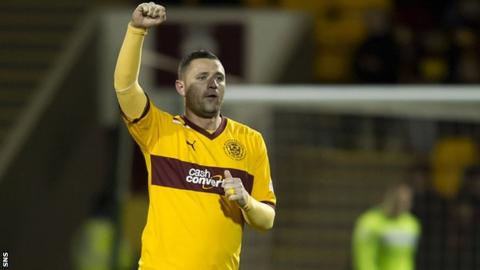 Motherwell striker Michael Higdon hopes his season will be remembered for being Scotland's player of the year rather than his subsequent arrest.
The 29-year-old was involved in an alleged assault less than three hours after picking up his award on Sunday.
"It's still the best night I've had as a footballer," he said. "It's a career high and that's all I'm thinking about, rather than any negatives.
"I hope other people see it like that too."
Higdon was released without charge early on Monday morning, with the case now in the hands of the procurator fiscal, before discovering his arrest had made the national news.
The former Falkirk and St Mirren centre forward, who has scored 27 goals so far this season, expressed regret for getting caught up in the incident outside a Glasgow nightclub.
"I'm annoyed at myself for getting myself into a situation like that because it's not me," he said.
"I'm not the type of lad who goes out clubbing or to bars. I'm a country pub type of guy.
"I should have known better than getting into that kind of situation."
Motherwell, who have made no official comment on the incident, will now have to hope that any negative publicity does not put Higdon off signing a new contract when his current deal expires in the summer.
The Fir Park club are hopeful of persuading the player to sign a new deal despite interest from potentially more lucrative options.
"I've just got to leave my options open and see what's there at the end of the season," said Higdon last month.