Rangers board bid to oust chairman Malcolm Murray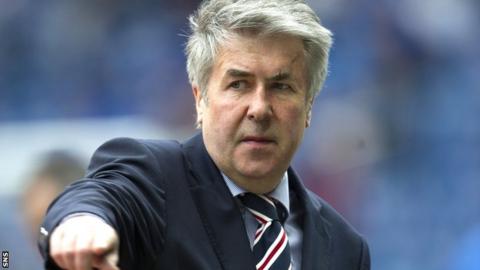 Chairman Malcolm Murray could be on his way out at Rangers after losing a vote of confidence at a board meeting.
BBC Scotland has learned that Ibrox board members are keen for Murray to stand down.
This follows an internal investigation into ex-chief executive Charles Green's links to the former owner Craig Whyte.
After talks on Tuesday, Murray remains in post but it is believed he has little support from existing board members.
However, BBC Scotland has learned non-executive director and former Rangers manager Walter Smith is said to be unhappy with the vote and was close to resigning following Monday's talks.
Green brought Murray to the Glasgow club last June on the day he completed his purchase of Rangers' assets in a deal worth £5.5m.
Murray, who has a fund management background, has little to do with the day-to-day running of the club.
There was widespread reporting of a rift between Murray and Green earlier this year.
But Green and commercial director Imran Ahmad have since resigned their posts following allegations over the dealings with Whyte, who steered the club into administration in February 2012.
The pair deny any wrongdoing and retain their shareholdings in the club.
Whyte has claimed that he still owns Rangers' assets and that Green had agreed to be his front man before the consortium involving the Yorkshireman and Ahmad took control of Rangers' assets.
The claims and counter-claims led to Whyte and Green threatening one another with legal action.