Torquay: Martin Ling says club 'unprofessional' after dismissal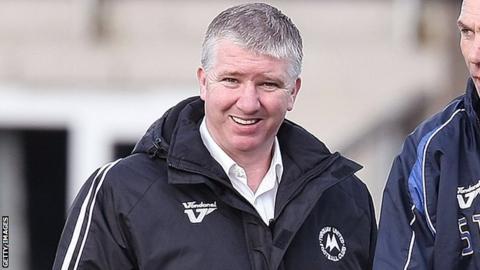 Former Torquay United boss Martin Ling claims the club were "unprofessional" in the way they sacked him.
The 46-year-old from chairman Thea Bristow after
"To have a statement that was read over the phone by Thea Bristow, I think is totally unprofessional on Torquay's behalf," he told BBC South West Sport.
The club insisted the decision was taken for purely "footballing reasons".
Ling was sacked the day Alan Knill had kept the club in the Football League, despite
"If they were going to get get rid of me, and wanted to get rid of me, they could at least have let me come down on that Monday or Tuesday, as they'd been saying all along, and told me it face-to-face and man up to it.
"To let Thea do a statement over the phone was pretty poor practice on their behalf, if I'm totally honest," said Ling.
In response to his claims, the club issued a statement, saying: "'It would be inappropriate for Torquay United to comment, other than to again thank Martin for his efforts at our club and wish him the very best for the future.''
Ling has refused to divulge the exact nature of his stress-related illness, except to say that rumours he had a drink problem were totally unfounded.
"The club were fully aware of the illness from the first day I had it and they were fully aware that I was going to have the illness seen to and fully aware that there was a recovery process and that I would be recovered before the end of the season," he said.
"The rumour about me being an alcoholic, which is going round Torquay at the moment, can't be further from the truth.
"It's a stress-related illness and any future employee will get the full details of my illness.
"If I had had a heart attack or cancer and this had happened there'd be uproar, but because it's a stress-related illness it seems they can get away with it."
Former Leyton Orient and Cambridge boss Ling took Torquay to the play-offs in his first season in charge, and with last summer's sales of Mark Ellis, Eunan O'Kane and Bobby Olejnik, he brought almost £700,000 to the club in transfer fees.
This season, although the club were 18th in League two when Ling began his break from the job, they were only nine points off the play-off places with two games in hand.
"After 26 games this year things weren't going brilliantly, but we had 34 points and there was no talk of Martin Ling being under any sort of pressure," he said.
"I leave the club with the illness, the club had 20 games and got 19 points between Shaun (Taylor, Ling's assistant) and Alan Knill, and all of a sudden I'm sacked."
Knill but still Ling questions the "footballing reasons" given by the board for his sacking.
He said: "The fact that they keep saying it's football reasons makes me believe there is an underlying problem other than football reasons.
"If any person looked at what I did at Torquay United they should be patting me on the back and shaking my hand.
"For the three months I wasn't there I've gone from being well-respected and well-liked by everyone there, including everyone on the board, to 20 games later, when I've had nothing to do with it, I can't even get them to speak to me face-to-face to let me know I'm no longer required."
Despite his disappointment, Ling thanked the Torquay fans for their support during his time in charge.
"Everything I did was to the best of my ability and I feel I've left Torquay United in a better situation than when I arrived," he added.
"Whatever my next job will be, I hope the supporters will be as complimentary to me as the Torquay United supporters were to me for the two years that I was there."