Safa to complain to Caf about TP Mazembe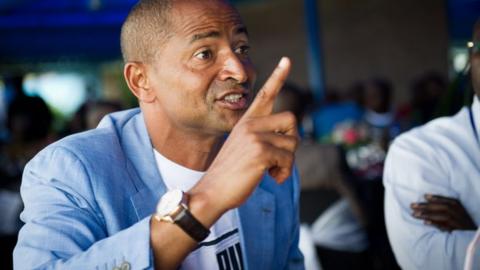 The South African Football Association will complain to the Confederation of African Football over TP Mazembe's hosting of Orlando Pirates in their Champions League tie.
Pirates lost 1-0 in Sunday's second-leg match in the in the Democratic Republic of Congo but progressed 3-2 on aggregate.
The result means Pirates go through to the group stages of Africa's premier club competition while Mazembe drop down into the Confederation Cup.
Despite their success, Pirates players and officials described the trip to Lubumbashi as "hell"' after two travelling reporters were arrested and another had equipment confiscated, and the team was allegedly intimidated throughout the trip.
"The South African Football Association intends to express its strong dissatisfaction to the Confederation of African Football over the treatment meted out to Orlando Pirates FC,'' Safa said on Tuesday.
"It was a terrifying experience,'' said Safa official Elvis Shishana, who also travelled to Lubumbashi as the head of the delegation. He was confronted by fans in the stadium and had a phone taken from him. Security officials "failed to assist'' him, Safa said.
"Our lives were at risk,'' Shishana added. "The boys played as though their lives depended on the outcome. They showed real guts out there. I am proud of them for hanging on under such difficult circumstances.
"We are also glad we are back home in one piece but I must repeat that it was a scary situation and our lives were really in danger.''
Pirates midfielder Lehlohonolo Masalesa told the club's website: "We were scared for our lives after the match. The fans of Mazembe started burning cars outside the stadium.''
Safa said South Africa's national broadcaster, SABC, was prevented from broadcasting the game. Two of the SABC crew were arrested and later released, while a radio reporter had equipment confiscated.
"It was very clear from the beginning that they had an agenda, hence they did not want anyone to record the match,'' Shishana said.
Orlando Pirates also raised concerns over the refereeing. Seychelles official Bernard Camille sent off Pirates captain Lucky Lekgwathi in the first half, awarded TP Mazembe two penalty kicks - both of which were saved - and added on about 10 minutes of injury time at the end as Mazembe searched for a tie-winning goal.
"I've never seen anything like it in my entire career,'' Pirates coach Roger de Sa told South Africa's Sowetan newspaper. "`The entire 100 minutes of football we played there was frightening, it was worse than a movie.
"It makes me wonder how Mazembe got those four stars on their crest," he added, referring to the club's four Champions League titles. "I'm bitter and shocked that Caf turns a blind eye to these things.''
However, TP Mazemebe owner Moise Katumbi insisted there had been no wrongdoing and rejected Safa's suggestions.
"There were no incidents," he told BBC Sport. "If there was something really bad happening why would the team go into the stadium?
"There was a commissioner for the game, maybe you can ask Caf if he submitted a report. I asked the commissioner if there was any problem after the game - there was nothing.
"This is not good for football. I never had a problem with any team here. Let Orlando prepare their team for the Champions League - I congratulate them.
"I was in South Africa myself for the first leg and there were a lot of incidents, but I never said anything about that.
"For every team, even Real Madrid or Barcelona - every big team, there is a period for winning and a period for losing. That is why I wish Orlando Pirates luck and I hope I hope they progress and maybe even go on to win the cup.
"For us, TP Mazembe, we will now go into the Confederation Cup and do our best."