Swansea City's form 'not good enough- Ashley Williams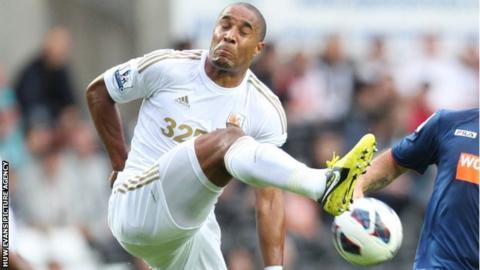 Ashley Williams admits Swansea City's Premier League form has been "not good enough" since they won the Capital One Cup in February.
Michael Laudrup's team have won just once in eight matches since beating Bradford 5-0 at Wembley.
Swansea face former manager Roberto Martinez's Wigan on Tuesday with Williams saying they must improve.
"I think for whatever reason we've taken our eye off the ball a little bit," he said.
Swansea's victory at Wembley earned them a place in the Europa League next season.
They followed that up with a 1-0 victory over Newcastle on 2 March to reach 40 points in the Premier League - the total generally regarded as being safe from relegation.
The Swans have failed to win since, picking up three points out of a possible 21 with draws against Norwich, Southampton and Manchester City.
"It would be easy to say that we thought the season was over and all that, but I don't feel like that and I don't thing the boys do," Williams said.
"But it looks that way from the outside.
"It's just not good enough. Take away the Arsenal and Tottenham games, and we should have done a lot better in all the other games.
"I think we've done well in games and just critical periods in games we've stopped playing and they've scored or we haven't taken our chances.
"A couple of times we drew when we should have won. I'm not sure why, but it's something we have to work through."
Swansea face a Wigan team battling to avoid relegation and managed by the man who signed Williams for the Swans in 2008.
But the Wales captain says there will be no sentiment, with the Swans determined to pick up as many points as possible before the end of the season.
"We don't really want to go into the summer on a sour note," he said.