Wolves: Relegation 'inexcusable', says club captain Karl Henry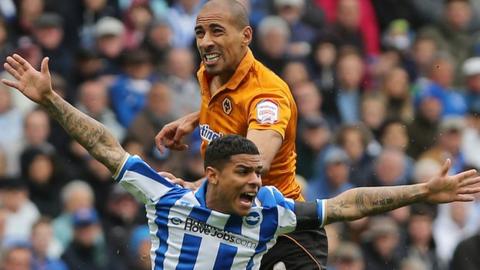 Wolves captain Karl Henry admits that the once great club are in "a sorry state of affairs" in the wake of their second successive relegation, followed by the sacking of Dean Saunders.
Wolves are now looking for their fifth manager in 15 months after Saunders failed to save them from the drop.
"There are no excuses," Henry told BBC Sport. "We should never be relegated to League One with our players.
"The club as a whole needs to look at itself from top to bottom."
Boyhood Wolves fan Henry, who has worn the captain's armband for the majority of his seven years at his hometown club, is quick to acknowledge responsibility within the dressing room.
"It is inexcusable. It is an absolute outrage that we have been relegated to League One and that is no disrespect to League One," he said.
"Wolves are a big club, with a big wage bill and good players and we should not be getting relegated.
"It is a sorry state of affairs at Wolves at the moment and slightly embarrassing."
But Henry insists that the pain suffered on the terraces at Molineux over recent months is also being felt by the players.
"We have held our hands up and said we were not good enough," he said.
"We understand the fans are annoyed, not just disappointed. They are really annoyed with the club and the players.
"But the players are hurting. We have not been lying down and dying."
And the 30-year-old midfielder, veteran now of 272 games for the club, insists that he will have the personal incentive of staying on at Molineux to try and earn promotion back to the Championship at the first attempt.
"I have a point to prove as it has not been a great season for me and we have also been relegated," added Henry.
"We have our own personal ambitions as well as playing for a great club like Wolves.
"The same group of players did well under Mick McCarthy.
"We now have to take the summer and the ones that want to come back have to stand up and do something about it."
Henry, one of McCarthy's first signings when he took over at Molineux in July 2006, lost the captaincy to new signing Roger Johnson at the start of the 2011-12 season, only to get it back under Terry Connor and Stale Solbakken before losing it again under Saunders.
But he does admit to sympathy for Saunders, in his response to the question of how any manager can be judged after 20 games?
"I don't how you can," he said. "It is a difficult one. Under the current circumstances with us being relegated, I understand heads roll and people make reactions.
"Stale Solbakken, was he the right manager? Evidently not.
"They then replace him halfway through the season with Dean Saunders who has had no money to spend, was not able to bring in any players and now has been sacked.
"It was a difficult job for him and we have not been able to save ourselves. We won some games at the end but it was too little too late."