Keith Burt named Bristol City's new director of football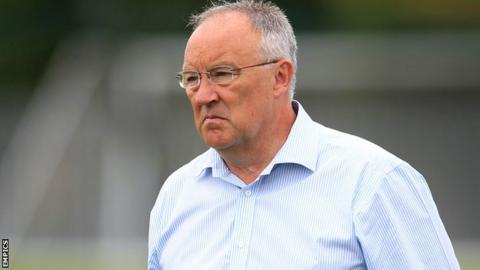 Bristol City have named Keith Burt as their new director of football to work alongside head coach Sean O'Driscoll.
Burt, who worked with O'Driscoll at Nottingham Forest, was initially appointed as City's chief scout.
"I'll take on more responsibilities with the new role, sitting between the head coach and the board. It's a role I've fulfilled before," he said.
"It will allow Sean to get out on to the training ground more and focus on his time with the players and staff."
He continued: "Sean is very comfortable with me taking the position, which was an important factor."
Burt arrived at Ashton Gate last month after seven seasons as head of recruitment at Forest, where he helped O'Driscoll rebuild the squad.
O'Driscoll joined Bristol City in January, following his dismissal by the Reds a month earlier, but was unable to save them from relegation from the Championship this season.
Speaking about Burt's promotion, O'Driscoll said: "This is a significant move by the club and one I welcome completely.
"Keith will provide the link between the board and the football side and will be a critical feature in the club's restructuring.
"He is very respected within football, extremely well connected, can talk to players and agents alike and will work within the ethos and values being set by the club, in the best interests of the club."