Guernsey FC 'don't fear' promotion says boss Tony Vance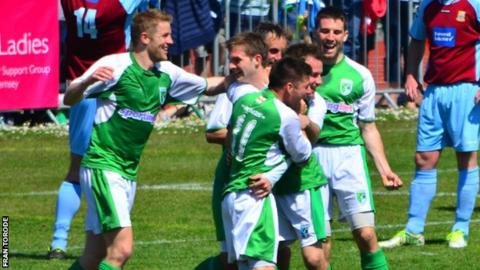 Guernsey FC boss Tony Vance says he does not fear the step up to Isthmian League football after his side's promotion at the weekend.
The Green Lions
They gained enough points to move to the Isthmian League's Division One South - a second successive promotion.
"It's going to be a different challenge, but it's certainly one I don't fear," he told BBC Guernsey.
The Green Lions had over 1,700 fans for their final league clash against Farnham Town on Monday, and Vance feels that clubs will want to sample that atmosphere.
He said: "People want to play us to experience something like this and it's important that we use that in the right manner."
And Vance outlined the toll Guernsey FC has taken on him and assistant Colin Fallaize for the first time.
The pair, who are unpaid, have had to balance the rigours of travelling for away games alongside their day jobs.
"It's taken over my life to be honest," he admitted.
"It's cost me an awful lot of money. Trying to work has been affected.
"It's the same with Fall, it's probably cost him an absolute fortune.
"We do it because we want to, but it does pick at times.
"I can't go anywhere now without people commenting, and fortunately right now they're positive comments, but it has taken over our lives."