Paris St-Germain could lose points over Leonardo referee clash
Last updated on .From the section Football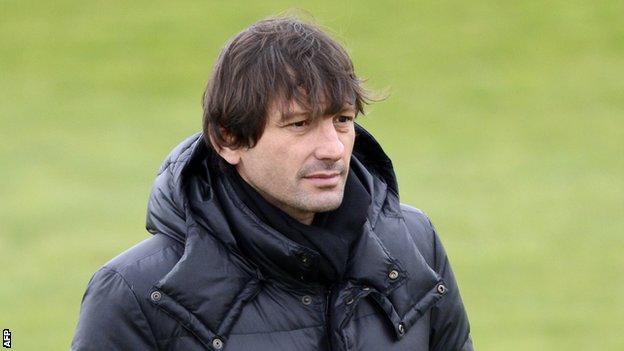 Paris St-Germain could be deducted points after an investigation opened into an incident involving Leonardo and a top-flight referee.
But the 43-year-old denies the allegation, saying: "I was pushed. It is me who was assaulted.''
The French League's (LFP) disciplinary commission is examining the clash.
It could give the Brazilian - who previously played for the club - a provisional suspension on Tuesday and summon him to appear in 15 days.
Article 2.9 of the LFP's regulations states that "deliberate barging or attempted punches" on an official could lead to a year-long suspension, with the rulebook also stipulating that points can be deducted from the team the transgressor represents.
The commission has not, however, issued a points deduction in similar cases previously.
PSG hold a seven-point lead at the top of Ligue 1 with three games to play. If no points deduction is given, victory at third-placed Lyon on Sunday will be enough to secure the title.
Television footage appeared to show Leonardo bumping into Castro with his left shoulder at the end of a fiery 1-1 draw at the Parc des Princes that had already featured a red card for PSG defender Thiago Silva after he had touched the official while contesting a decision.
Leonardo has since insisted that he was pushed into the referee in the tunnel by the principal match delegate, an accusation that was rejected by Marc-Gerard Biolchini.
"I didn't barge into or touch Leonardo at any time," he told Le Parisien. "The pictures are clear enough.
"In 20 years, I've never known such an act of violence. Already at half-time, Leonardo came to speak to the referee.
"I stopped him going into the dressing room, because he was really annoyed. It's regrettable that it's all ended like this."
Leonardo has already been punished with a suspended two-match ban this season for criticising the referee after PSG defender Mamadou Sakho was sent off in November's 1-1 draw at Montpellier.