Andre Villas-Boas: Chelsea return 'not very special'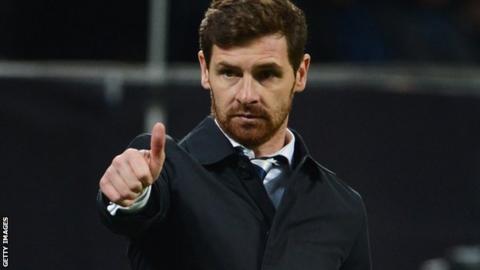 Tottenham manager Andre Villas-Boas has played down his return to Chelsea on Wednesday night and says he will respect the reception he receives from the home fans.
Villas-Boas, 35, was sacked after nine months as Blues boss in March 2012.
"It is not very, very special. It is a club that I have gone past," he said.
"I have good and bad memories like everybody else but it was a period that did not finish the way I would have liked."
Villas-Boas won 20 of the 40 games he managed Chelsea for, but was dismissed after a run of just three league wins in 12 matches.
He said: "Whatever reception I get it will come from (the fans's) hearts so I respect that, it is absolutely fine."
Roberto Di Matteo replaced Villas-Boas, initially on an interim basis, and guided the west London club to victory in the Champions League.
Villas-Boas, who became Tottenham manager in July last year, says he bears no grudge towards Chelsea over his sacking.
"Situations like we were in dictates for a manager to lose his job," he added.
"It is understandable and has happened at various clubs for the same reasons, with the same effect - which is some success after.
"It is nothing new in football. In moments of maximum difficulties you either believe in what you are doing or don't believe and at that time the club had to make a decision, which in the end proved successful for them."
Villas-Boas returns to Chelsea with both sides looking to pick up three points that would strengthen their bids for a top-four finish in the Premier League.
Tottenham are fifth, three points behind Chelsea, and, with just two games remaining after Wednesday, the outcome of the Stamford Bridge encounter could prove crucial in determining where the respective teams finish this season.
"It is still very, very open because of the remaining fixtures," said Villas-Boas.
"Obviously if Chelsea win they are in (third) which means one less spot available and we wouldn't be depending on ourselves to achieve (a top-four finish).
"Our drive is to set out to win the game and be able to depend on ourselves for the remaining fixtures. We can do that by winning and that is the only way we can approach the game."