David Luiz: Rafael Benitez says defender was laughing at fans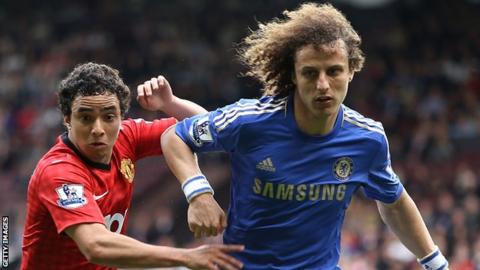 Chelsea interim manager Rafael Benitez has defended David Luiz following the dismissal of Manchester United full-back Rafael at Old Trafford on Sunday.
Luiz was laughing as he lay on the ground after Rafael's challenge had earned a red card towards the end of Chelsea's 1-0 win.
United manager Sir Alex Ferguson said Luiz acted like a "dying swan".
Benitez claims he was not trying to con the referee. "Luiz was laughing because the fans were abusing him," he said.
"After was the red card [for Rafael]. It was very clear, the timing."
The Spaniard also added Luiz is "one of the best players in the Premier League, by miles" and deserves some "respect".
Luiz, who has 20 caps for Brazil, is reported to have told friends that his smile was as a result of supporters' taunts over his likeness to The Simpsons character Sideshow Bob, who also has curly brown hair.
Benitez was asked if he was aware of who Sideshow Bob is, but said: "I'm aware David Luiz is one of the best players in the Premier League, by miles - miles away from a lot of players. He's one of the best, without doubt.
"If we're talking about that, we're not talking about Chelsea beating United, doing much better in three games - two at Old Trafford."
Luiz, 26, will not face any action from the Football Association over the incident and Benitez added: "If we continue talking about this, instead of trying to eradicate the bad tackles that you can see every week, I think we're giving importance to something that is not as important.
"I don't like this situation, but we are talking about one of the best players in the Premier League.
"We have to respect him."