Hamilton chairman Les Gray hopes SFL clubs embrace change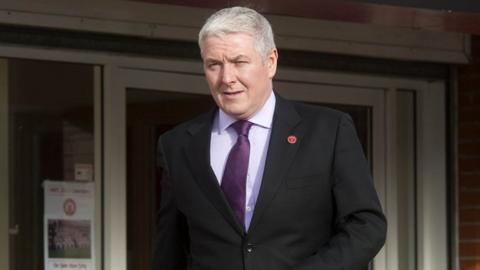 Hamilton chairman Les Gray is hopeful Scottish Football League clubs will welcome the prospect of a merger with the Scottish Premier League.
But SFL clubs will also have to vote before all 42 senior clubs can be brought under the one banner.
"I'm as confident as I can possibly be but you can never say never in football," said Gray.
"We will have a vote at some point. We will have to put forward a motion to vote on and the timescales will be tight so we'll have to look at the rulebook.
"As far as I understand it, we can call for a special general meeting within five days if we choose to do so if there isn't enough time.
"If we can [merge the SFL and SPL] then you've got one governing body but it's obviously much easier to change anything, rather than trying to get it past two with an arbitrator of the SFA, which has happened in the past."
That move followed the rejection of a previous package of changes, which included a new league model to replace the current 12-10-10-10 make-up.
Two SPL clubs voted against those plans and thus prevented the 11-1 majority required before the SFL had the chance to hold their own vote.
The new measures agreed by top flight clubs on Tuesday shares much with the previous set of proposals with a revised financial distribution model, the introduction of play-offs between the top two divisions and a pyramid structure below the fourth tier still on the agenda.
"I'm delighted that we've got to a situation where the SPL clubs had a turnaround," added Gray on BBC Radio Scotland's Sportsound.
"I'm just delighted that maybe the actions of the 10 clubs in the First Division have maybe had something to do with influencing their decision.
"I think we've been given an opportunity for change, everybody's been shouting about it for long enough."