Ipswich Town: Michael Chopra & Jay Emmanuel-Thomas can leave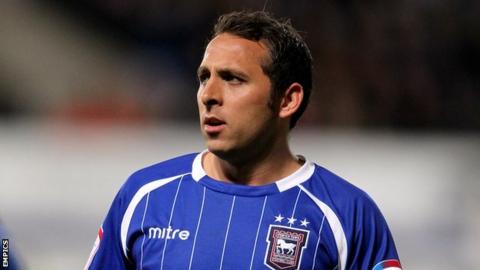 Ipswich Town have told Michael Chopra and Jay Emmanuel-Thomas they can leave the club and released Lee Martin, Andy Drury and Arran Lee-Barrett.
Forwards Emmanuel-Thomas and Chopra have a year left on their contracts.
"I told them that I don't see them as being part of my plans going forward and they are free to look for another club," said boss Mick McCarthy.
Former Arsenal winger Emmanuel-Thomas has started three games since October, while Chopra has five goals this term.
The 29-year-old former Newcastle, Sunderland and Cardiff striker's Portman Road career has been
At the club's behest, he spent part of last summer at a fitness camp in the United States, but he was unable to recapture his prolific best and in January was banned from horse racing for 10 years after being found guilty of using inside information to place bets.
Winger Martin, 26, has been a regular member of McCarthy's side this term, playing 37 games, but has ended a four-year association with the club which began when he joined them from Manchester United in 2009.
Midfielder Drury, 29, has also played his part with 30 games this season, but 29-year-old keeper Lee-Barrett has been unused all campaign.
"Lee, Andy and Arran are all out of contract and have been released," McCarthy told the club website.
"I want to look at other options, but we wish them every success for the future."
over the summer following his loan spell this season, while midfielder