Lee Cook: Leyton Orient man eyes Championship football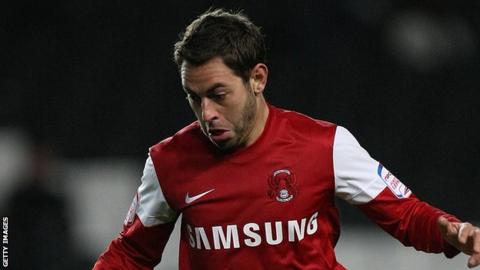 Lee Cook hopes he will be playing Championship football next season.
The 30-year-old winger made 45 appearances for Leyton Orient this season but has not agreed a new deal.
He told BBC London 94.9: "I had an injury-free season for the first time in a while.
"I hope that with getting appearances under my belt I will get a bit of interest, maybe from higher teams. I am 30 years old and still feel I could play at a higher level."
Cook joined Orient on a short-term deal in August which was extended until the end of the season after proving his fitness.
The former Watford, QPR and Fulham player has previously played in the second tier and he harbours ambitions of playing at a higher level again.
"I enjoyed my football [at Leyton Orient] and that was the most important thing for me - to play football and get my name back out there," he added.
"It's difficult to get yourself up for certain games in League One as you're going to grounds which have hardly anyone in them.
"There were times throughout the season where I thought I don't really want to be playing in this division.
"You have got to get your head down, get on with it and prove yourself again. That's what I've had to try and do.
"I do want to play higher. If it doesn't happen I will just have to prove myself again."
Cook helped the O's to a seventh-placed finish in League One and he has left the door open for a return to Brisbane Road.
"It was a successful year with the budget they have," Cook said.
"We have a small squad and the boys pulled together and that is why we have done as well as we have.
"They want me to stay there but the gaffer [Russell Slade] understands my situation. I might be looking to venture to other things but I am playing a waiting game.
"I will speak to him again when I get back from holiday and update each other from there.
"I don't know what will be happening."