Pat Nevin - the Team Talk XI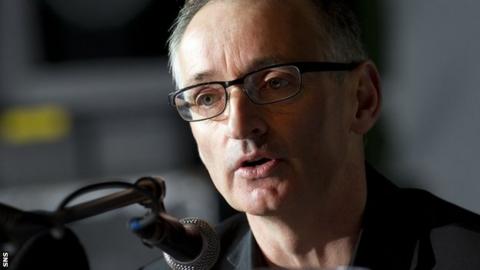 Former Scotland winger Pat Nevin looks back over his career and picks his BBC Radio Scotland Sportsound Team Talk XI and manager based on his playing experiences at club and international level.
Goalkeeper - Neville Southall
Neville was just a freak of nature. Most people in football thought he was the best keeper in the world at the time. His ability to read your feet, where your body position was angled was amazing. A stunning, stunning goalkeeper.
Right-back - Steve Clark
Really intelligent footballer. We had just a great understanding. He was great at overlapping, but he also did under-lapping and not many full-backs do that. The one who is doing it to great effect at the moment is Leighton Baines. Clarky and I were doing it at Chelsea. He was a great defender.
It's no surprise that he's a successful manager; the only surprise to me is how on earth it has taken so long.
Central defence - Richard Gough and Colin Pates
Richard Gough was a real leader, a fantastic guy at the back. He made very, very few mistakes. A machine of a man engine-wise, pace-wise, reading the game and he could play as well - everything you need to be a defender but everything you need to be a good midfielder as well.
Colin Pates played at Chelsea with me. It always amazed me that he didn't play for England because he was as good as any other centre-back doing the normal things.
Patesy was more of a player but he's not that well known. It's purely for one thing - he didn't get international caps. It wasn't because he wasn't good enough. He was definitely good enough. For me, he was too much of a player.
Left-back - Ged Brannan
Ged became the captain at Motherwell and basically played in every single game he was available for.
He and I were a partnership; he was left-back and I was left wing for Tranmere Rovers and he was fabulous.
Midfield - Paul McStay
We played for Scotland together. He was just class, absolute class. He controlled games, a brilliant passer.
There are players you'd like to have played with a lot more and Paul was certainly one of them.
Midfield - Norman Whiteside
I played with Norman at Everton for a couple of years. I think he scored 18, 19 goals from midfield. I didn't see him give the ball away in training or a game. Everything about his game was top quality. Had he been injury-free, he would've been arguably the best player these islands have ever seen. The guy was absolutely stunning.
Right midfield - Peter Beardsley
We don't, as a nation, create number 10s. It's not that they're not there, we just don't use them. The last great one for England was Beardsley and he was used as an off-the-front man but not a 10. Now and again you come across a player who had that level of intelligence and it was just an absolute joy.
Attacking midfield - Kenny Dalglish
I was fortunate enough to play with Kenny. My first games with Scotland were his last games with Scotland. I didn't play with him that much. I had pictures of Kenny on my wall when I was a kid and there I was suddenly playing with him! He's probably the best player this country's ever produced. He became better and better as he got older but he was more exciting when he was at Celtic. I loved all the different stuff that he did.
Left midfield - John Collins
John and I played a few games for Scotland. A player who should be playing now, he would be much better suited to the modern game. Right up there with Xavi and Iniesta. He was that standard but he played in a time where that sort of player wasn't really being used in that sort of way. A great, great player. I don't think we realise how good he was.
Centre forward - Kerry Dixon
Never missed, the guy was exceptional.
Manager - Craig Brown
Craig Brown spotted me playing in a bounce game for a boys club against Clyde and immediately talked me into signing up, otherwise I wasn't going into football, I was studying. He was really good with organisation. I didn't really see a lot of weaknesses about Craig.