Sir Alex Ferguson: Alex McLeish hails 'great leader'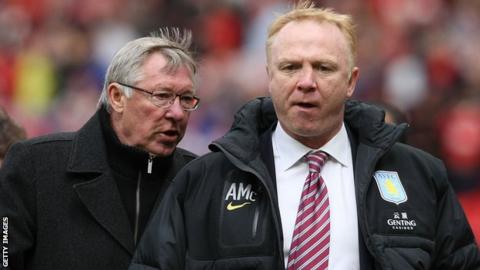 Alex McLeish believes Sir Alex Ferguson is "one of the best leaders of men you will ever see".
Ferguson, 71, will retire at the end of the season as the most successful manager in British history.
Manchester United's title success last month was his 49th trophy since he began his career in the dugout with East Stirlingshire in 1974.
McLeish helped Ferguson win 10 of those trophies during his days in defence for Aberdeen in the 1980s.
"He was a big influence on my playing and managerial career," McLeish told BBC Scotland.
"He has been a major player in my life and nurtured me as a human being."
Ferguson's crowning moment at Aberdeen was winning the European Cup Winners' Cup in 1983 by beating Real Madrid 2-1 in the final. A Super Cup triumph against Hamburg followed.
He also won three Scottish titles, four Scottish Cups and one League Cup during his time with the Dons and that success led to him being lured to Old Trafford in November 1986.
"It was a great era, with Aberdeen and Dundee United challenging the Old Firm, with similar managers in charge," recalled McLeish, who went on to manage Rangers, Birmingham, Aston Villa and Scotland.
"They [Jim McLean and Ferguson] were strong characters and were down on top of you for every little single thing you did.
"The strong players survived that and it was a case of rolling up your sleeves and saying 'I'll show him'.
"Nowadays, there is a different style required and Sir Alex evolved into one of the best managers we'll ever see."
Ferguson's reputation as a strict disciplinarian was established from an early age, with his infamous 'hairdryer' treatment honed at St Mirren, with whom he won the First Division title, and Pittodrie.
Talking to BBC ALBA for the documentary Gothenburg '83, former Dons captain Willie Miller said: "He was a very young manager, so he was kind of abrasive in how he went about it.
"Sir Alex knew he had a bunch of players there that were honest and he could trust, but he had to get the best out of them and he used kind of different tactics to get the best out of different players and if a cup had to go flying then it had to go flying. It certainly worked."
Archie Knox served as Ferguson's assistant at Pittodrie and Old Trafford and he recalled: "They used to make it out that it was 'good cop - bad cop'. I think Alex was asked that on one occasion, 'good cop, bad cop?' He said: 'No, two bad cops.'"
And Eric Black, who scored in the famous win over Real Madrid, remembers that terrifying double act.
"It seemed to be one tsunami would hit you and then a typhoon had come in straight after it," he said.
"I must admit, there were a lot of times where I wouldn't have put them up there as my favourite people on the planet.
"But, looking back now, I can see the work and the time they put into us - and just how they developed us as young players."
Celtic manager Neil Lennon added to the tributes, saying: "It is a real shock that Sir Alex has left the game he loves and undoubtedly football will really miss him.
"It is a privilege to know Sir Alex and I would like to thank him for all the assistance he has given me as a manager. There is no better source of help and advice.
"He has decades of experience as a manager, but, most importantly, he knows how to win.
"He has given Manchester United fans a glorious period of success, bringing trophy after trophy to Old Trafford and making his club one of the biggest footballing institutions in the world.
"The resilience and commitment he has shown during this period as manager cannot be underestimated. While there were difficult times, his strength of character, passion and single mindedness meant he achieved such great things.
"It is this drive and commitment which has resulted in the legacy he now leaves for others to follow."
McLeish, who won 77 caps for Scotland and played at three World Cups, including 1986 when Ferguson was in temporary charge of the national team, admitted news of Ferguson's retirement had caught him by surprise.
"He looked so fresh on the pitch when United wrapped up the league, I thought he was ready for another few seasons," he said.
"But his decision-making has always been quite good over the years," he joked.
"He is certainly going out on a high."
The programme is repeated on 11 May at 21:30 BST and 12 May at 18:00 - as well as being available on the BBC iPlayer all week.