Morten Gamst Pedersen will stay loyal to Blackburn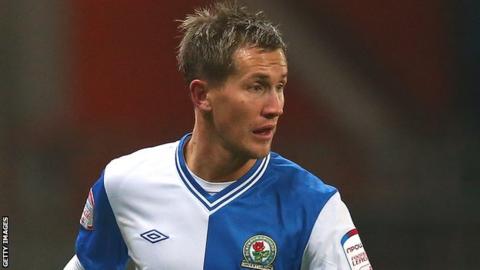 Morten Gamst Pedersen wants to remain at Blackburn Rovers for a 10th season.
The 31-year-old Norwegian midfielder has 12 months remaining on his current contract, which would take him to a decade of service at Ewood Park.
And he told BBC Radio Lancashire that he would like to stay, irrespective of who is appointed as their next manager.
"We'll see what happens and if they want me to stay. I'm part of Blackburn and I'm proud of it," said Pedersen, who has played 350 times for the club.
Pedersen, a £1.5m signing from Tromso in 2004, was linked with a move back to the top flight following Blackburn's relegation in May 2012, but
"Maybe it would have been good [to leave], maybe not - you never know," he said. "But when you love the club and you want to get back to the Premier League, you don't want to let people down.
"I'm a big part of this club and I've been here for a long time. I'm the longest-serving player now. That's why it hurts even more when you lose games. I've still got one year left and that's all I'm thinking about."
Rovers endured a turbulent 2012-13 season, which began with Pedersen being labelled a "pensioner" by the club's global advisor Shebby Singh at a fans' forum - a comment he - and ended with Rovers narrowly avoiding a second successive relegation.
Five managers - Steve Kean, Eric Black, Henning Berg, Gary Bowyer and Michael Appleton - had spells in charge of Rovers.
"It's been a long season, that's for sure - a rollercoaster with lots of ups and downs," Pedersen added.
"There have been too many downs but it's a good feeling to be safe. Now we can go away, clear our heads and see what's going to happen next year. It's been a strange season and it's good that it's over."