Sir Alex Ferguson retires: Cristiano Ronaldo leads European reaction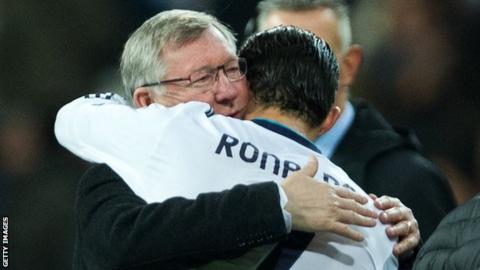 Cristiano Ronaldo has led the reaction in Europe to the news that Sir Alex Ferguson will step down as Manchester United boss at the end of the season.
Ferguson, 71, has won 38 trophies during his 26 years at Old Trafford.
Real Madrid winger Ronaldo, who was named Fifa World Player of the Year in 2008 while with United, said on Twitter: "Thanks for everything, boss."
Elsewhere, Fifa president Sepp Blatter and Uefa president Michel Platini also praised the Scot's record.
"His achievements in the game place him without doubt as one of the 'greats'" Blatter tweeted. "Will his longevity at the top ever be repeated?"
Platini said: "Sir Alex has made a massive contribution to football, not only in Scotland and in England, but across Europe and beyond. His dedication, his attention to detail and his unique eye for talent, as both the manager of Manchester United and Aberdeen, has brought rich rewards over a 30-year period.
"His CV is almost unique in a results-based profession that normally focuses on short-term solutions rather than long-term vision."
Denmark goalkeeper Peter Schmeichel, who won five Premier League titles, three FA Cups and one Champions League from 1991-1999, expressed his shock at the announcement.
"It has come as a bombshell, I really don't know what to make of it," he told Sky Sports News.
"Yesterday I was really happy with what he had done this season, now this, I'm disappointed and very sad.
"He's always said the day would come when something in his life wasn't right, is it is hip operation [he will have this summer]? I can't see him retiring over that. Until he explains why, we can guess and guess."
Footballers from across the continent joined in, with Barcelona and Brazil defender Dani Alves tweeting: "A football legend has retired, he is the kind of professional that helps makes this profession make sense. Thank you Sir Alex Ferguson."
Real Madrid loanee Michael Essien clashed with Ferguson's Manchester United side several times while with parent club Chelsea, and he added his tribute by tweeting: "Sir Alex [Ferguson]. A legend and one of the greatest managers ever. Good luck in your retirement."
Essien's Real Madrid team-mate Sergio Ramos added: "Acknowledgement to an amazing career at Manchester United. Remarkable [from] Sir [Alex] Ferguson, a football legend."
Across the Spanish capital, Atletico Madrid striker Falcao urged people to applaud Ferguson's career. "Stand up, put your hands together and give him a big round of applause! Sir Alex Ferguson is retiring," the Colombian tweeted. "Congrats for an amazing career!"