Glenn Pennyfather 'shock' at Chelmsford City sack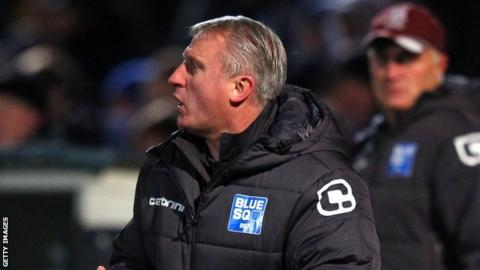 Former Chelmsford City boss Glenn Pennyfather has said he did not deserve to be sacked by the Clarets this week after a "successful season".
following his side's defeat in the Blue Square Bet South play-offs.
"Nothing surprises me in football, but it did come as a shock," the 50-year-old told BBC Essex.
"I thought we had another successful season. Unfortunately the board and chairman decided they needed a change."
Chelmsford achieved a play-off position in three out of four seasons under Pennyfather and reached the second round of the FA Cup in three consecutive campaigns, culminating in last November's first-round win over League One Colchester United.
But the Clarets have struggled financially, with and they once again failed in their ultimate goal of reaching the Blue Square Bet Premier.
After finishing fifth, the Melbourne Stadium side lost 2-1 on aggregate to Salisbury in this year's play-off semi-final.
"I'm hurting a bit, not just from the dismissal, but also from the result on Saturday. It's all pretty raw at the moment," said former Southend and Crystal Palace midfielder Pennyfather.
"Football's cruel at times and sometimes you don't get what you deserve. I thought if we added a bit more quality to the squad next year could have been the year, but I haven't been given that opportunity and football moves on.
"I'm proud I guided the club through possibly its most successful period. I can look back with a great deal of good times."
However, chairman Mansell Wallace insisted the club needed a change and said he had already received applications for the vacancy.
He added: "The financial problems were caused by the dip in form.
"You have got to set your sights quite high or you will soon find yourself towards the bottom and in the league below.
"We've made no secret about it. We want to get to where we should be - in the top level of non-league football."