Darren Ferguson 'not leaving' Peterborough United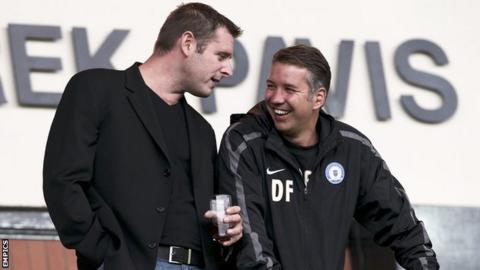 Peterborough United chairman Darragh MacAnthony has said manager Darren Ferguson will not be leaving the club.
after Saturday's
"Darren Ferguson will not be going to any other club & is already planning with me about our title push next season," MacAnthony said on Twitter.
Ferguson is the son of Manchester United boss Sir Alex, who
Ferguson junior, who has been linked to the vacant position at his former club Wolves, has secured two promotions to the Championship with Peterborough.
But when asked on Saturday whether he would remain at London Road to try to repeat the feat for a third time, the 41-year-old said: "I can't go on about next season.
"It's not the right time. I'll talk about it when it's right."
MacAnthony, who is currently in the USA, said discussions with Ferguson and his assistant Kevin Russell over summer rebuilding were set to take place
"He and Rooster [Russell] are travelling to the States next week to spend a few days with me planning everything. I'm already excited about the new season," he added.