Guernsey boss Kevin Graham names Muratti Vase squad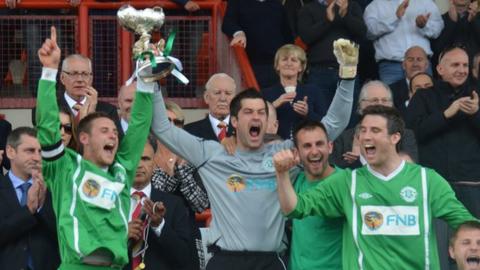 Guernsey have named a 19-man squad for the Muratti against Jersey.
Boss Kevin Graham's side is made up solely of players who helped and reach the
Graham, who believes his team should be regarded as the favourites, hold the title after a last year.
because of Guernsey FC's end-of-season fixture congestion.
Among the players included are Guernsey FC skipper Sam Cochrane, who missed the final games of the club's campaign with a hamstring injury, and top scorer Ross Allen.
Mark McGrath is rewarded for his good form at the end of the season with a call-up, while teenager James Hamon has been preferred to veteran Paul de Garis as Chris Tardif's understudy in goal.
"There weren't too many difficult phone calls," Graham said.
"Up until three or four weeks ago Mark McGrath and Craig Young weren't playing for Guernsey FC, but their involvement has benefited them and the club.
"James Hamon has come on leaps and bounds this year and is developing into a fine young keeper and he's in on merit.
"I've got what I need in the side terms of players in certain areas and I'll benefit from three or four players who are very versatile."
Guernsey Muratti squad: Chris Tardif, James Hamon, Simon Geall, Jacques Isabelle, Sam Cochrane, Jamie Dodd, Tom Strawbridge, Alex Le Prevost, Ollie Mackenzie, Angus Mackay, Kieran Mahon, Matthew Loaring, Dominic Heaume, David Rihoy, Glyn Dyer, Craig Young, Ross Allen, Marc McGrath, Nigel Hutton.