John Hartson against Scott Sinclair's Swansea return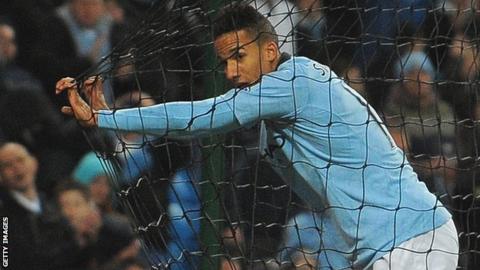 Former Wales striker John Hartson says Swansea City should not re-sign Scott Sinclair from Manchester City.
Forward Sinclair, who joined City from Swansea for £6.2m last year, has struggled to hold down a first-team place at the Etihad Stadium and has been linked with a return to Swansea.
But Hartson does not think Sinclair would add to Swansea's playing options.
"Scott Sinclair coming back, I'm not so sure personally whether that one would be [good for Swansea]," Hartson said.
"I think Scott Sinclair couldn't wait to get out of Swansea in the first place, he double or trebled his wages going to Manchester City.
"It's not for me to decide, that's for the manager [Swans boss Michael Laudrup] whether he would like Scott back."
Sinclair has started just three games for City since his switch from the Liberty Stadium in August 2012, making another 12 appearances off the bench for Roberto Mancini's side this season but failing to find the net.
The 24-year-old former Chelsea youth player scored eight goals in 40 appearances for Swansea the previous campaign during the Welsh club's debut season in the Premier League.
"I don't think he was particularly playing great in the Premier League anyway," Hartson added.
"I'm not too sure whether this level is quite his level, although he had a wonderful time in the Championship."
Sinclair's disappointing season ended on a low note this week after
Swansea have enjoyed another impressive season, with Laudrup building on the foundations laid by predecessor Brendan Rodgers, who left the Liberty in the close season to take over Liverpool.
Laudrup has led his side to their first major trophy after winning the Capital One Cup, earning a place in the Europa League into the bargain, while Swansea have never looked in danger of being involved in a relegation struggle.
But March and April saw Swansea go seven games without a win before Tuesday night's
However, Hartson says there is no need for concern as Swansea had achieved everything they could have realistically aimed for before the end-of-season slump.
"I think it's a natural thing to do, once you get to your target to ease off slightly," said Swansea-born Hartson, who won 51 caps for Wales and scored 14 goals.
"I don't think the performances have been that bad, I think they've played well at times.
"I think they played excellent in the first half against Manchester City at the weekend, they could have been two or three goals up at half-time.
"They just failed to take their chances and then to top everything off Michu gets injured, he's out for the rest of the season now which gives Luke Moore the opportunity to start a few games."
Swansea travel to Old Trafford on Sunday for what will be Sir Alex Ferguson's last home game in charge of Manchester United, before ending their season at home to Fulham on 19 May.